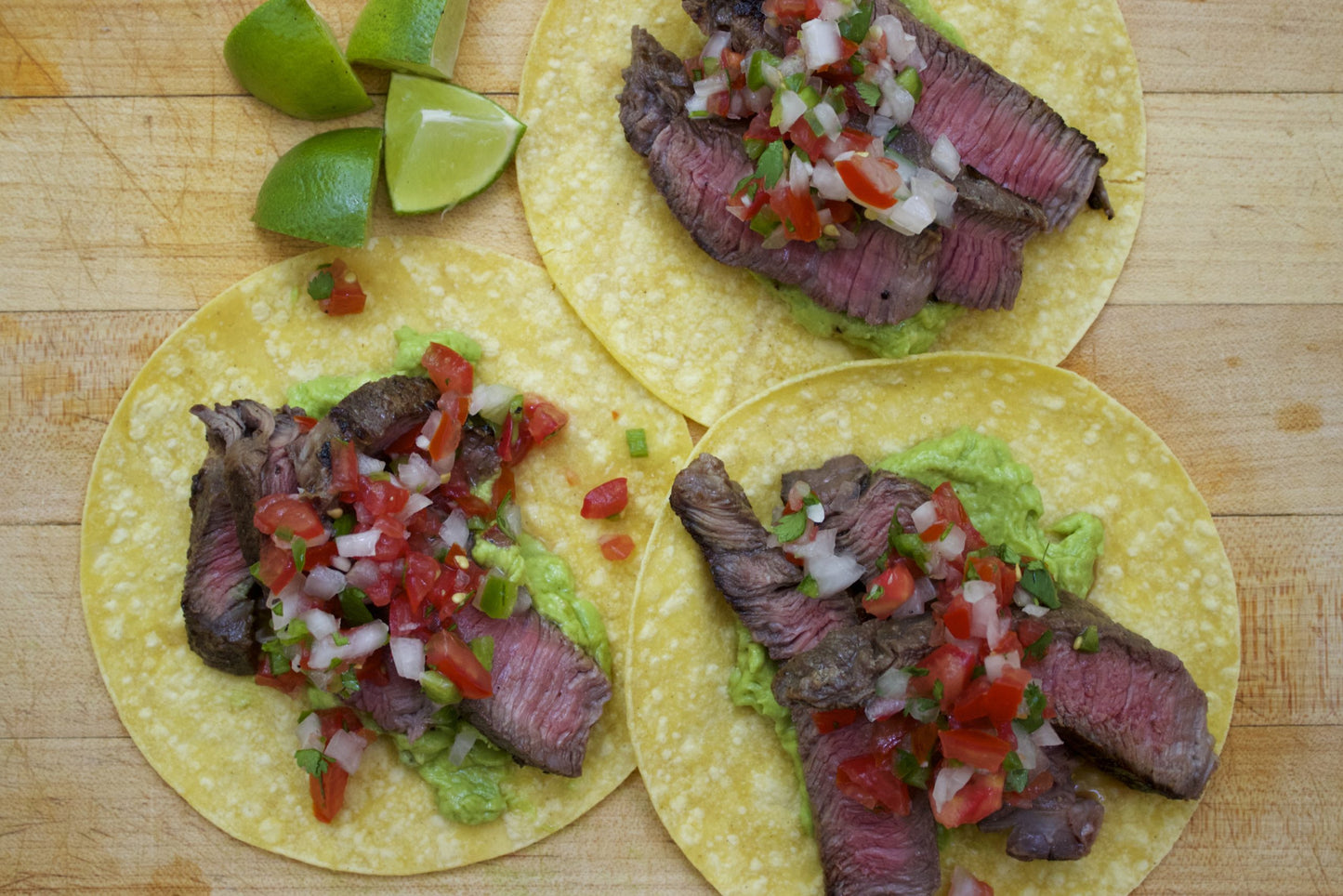 Ingredients:
Serves 2-3
1 TBS Ground Cumin
1 TSP Dark Chili Powder
1/2 TSP Cayenne
1 TSP Garlic Salt
1 TSP Lime Zest
1/2 TSP Kosher Salt, Divided
1 lb Foxhollow Farm Grassfed Flank Steak
2 TBS Olive Oil, Divided
1 Lime, Juiced and Divided
1 Red Bell Pepper, Sliced
1/2 Onion, Sliced
1 Jalapeño, Sliced
1/2 Cup of Sour Cream
2 TBS Fresh Cilantro, Minced
6 Fajita Tortillas
1 Avocado, Slices for Garnish
Instructions
For the cilantro lime sour cream, mix the juice from one-half of the lime with one-half cup of sour cream. Add two tbs of minced cilantro and 1/4 tsp of kosher salt and mix well. Set aside.
Combine the cumin, chili powder, cayenne, garlic salt, lime zest, and kosher salt in a bowl. Pat the steak dry and rub the spice mixture over all sides of the meat. Heat a grill pan on the stove over medium-high heat. Once the pan has heated for one minute, add one tbs olive oil and continue to warm. After one more minute has passed and the oil is hot, carefully add the steak. Grill the steak for six and a half minutes per side for medium-rare. Once seared on both sides, remove to a cutting board and tent with foil, allowing to rest for ten minutes so the juices can redistribute.
While the steak is grilling, prep the vegetables. Thinly slice one bell pepper, one half of an onion, and one jalapeño pepper. Toss the vegetables in one tbs olive oil and the juice from half of a lime. As soon as the steak is removed to rest, lower the heat to medium and add the vegetables. Grill the vegetables for three minutes and then toss, grilling for three minutes more, six minutes total.
While the veggies are grilling, heat your tortillas in a small dry saute pan over medium-high heat for 30 seconds on each side, Remove to a plate and cover with foil to keep warm. To serve, slice the flank steak against the grain. Fill the tortillas with the steak and veggies, top with the cilantro-lime sour cream and avocado and serve.
Salud!