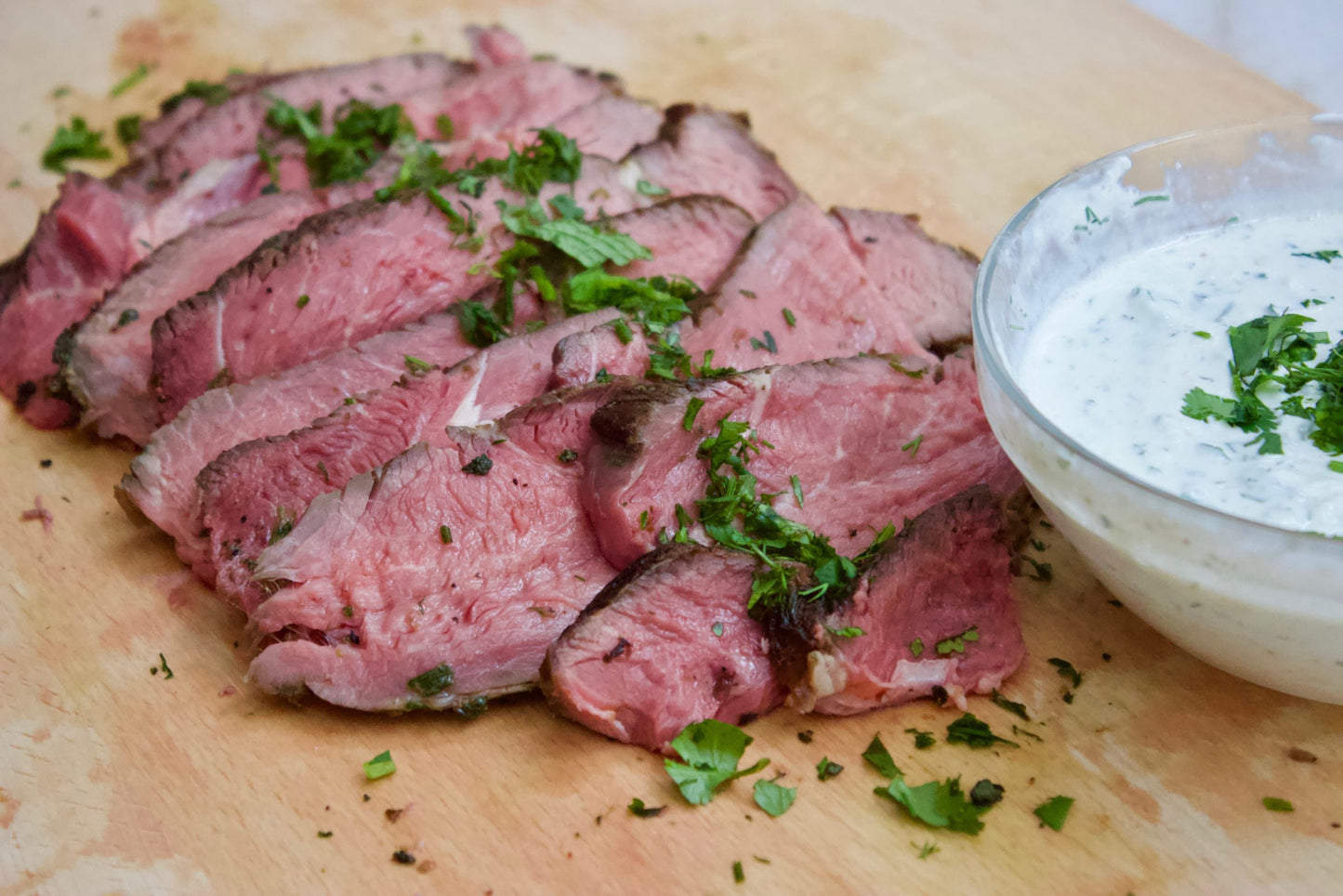 Grass fed roasts are one of our most versatile and delicious beef cuts! From hearty stews and flavorful roasts to juicy cuts that are great for sandwiches, roasts are always a great go-to to have in your freezer. This Herb Crusted Sirloin Tip Roast with Horseadish was created by
Farmer & Foodie
collaborator and Foxhollow Delivery recipe-creator,
Lindsey McClave.
It is perfect for these early spring days, after a full day spent outside!
Ingredients
Serves 6-8
Sirloin Tip Roast
1 3-4lb Foxhollow sirloin tip roast

½ cup minced fresh spring herbs, such as cilantro, dill, mint, chives, basil and tarragon

1 garlic clove per lb of roast, grated

the zest from 1 lemon

1 tbs kosher salt

½ tsp black pepper

1 tbs olive oil per lb of roast

2 tbs grapeseed or other neutral, high heat oil
Horseradish Herb Cream
1 cup sour cream

2 tbs pure horseradish (not prepared, check the refrigerated section of the deli aisle)

2 garlic cloves, grated

the juice from 1 lemon

¼ tsp kosher salt

⅛ tsp black pepper

3 tbs minced spring herbs, the same blend as used for the roast
Instructions
Sirloin Tip Roast
Plan ahead & marinate the meat overnight. Combine the minced herbs, garlic, lemon zest, kosher salt, black pepper & olive oil in a bowl & mix. Pat the roast dry & rub the herb marinade over all sides of the roast. Wrap tightly with plastic wrap & refrigerate for 12-24 hours. Remove the beef 1 hour before cooking to allow it to come to room temperature.
Preheat the oven to 250°. Warm a cast iron skillet over medium high heat & add the grapeseed oil. Once the oil is hot but not smoking, sear the roast for 2-3 minutes on each side, until well browned all over. Transfer the roast to a cooking rack set on a rimmed baking sheet lined with foil. Roast for 25-30 minutes per lb, or until a thermometer entered in the thickest part of the meat reaches 125° for medium rare. Remove from the oven & allow to rest, uncovered, for 30 minutes before slicing against the grain. Serve with horseradish herb cream alongside.
Horseradish Herb Cream
Combine the sour cream, horseradish, garlic, lemon juice, salt & pepper in a bowl. Whisk until well blended. Taste & adjust the seasoning to your preference. Stir in the herbs. Serve alongside the sirloin tip roast.
Salud!