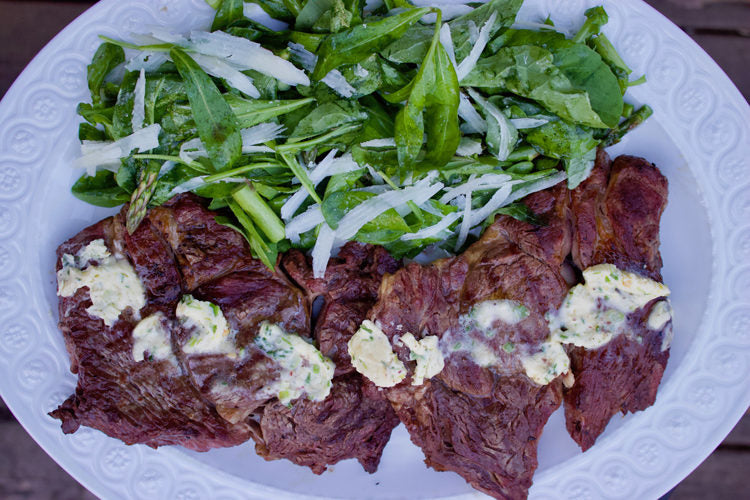 It's almost Memorial Day and we all know what that means. GRILLING SEASON IS HERE! Enjoy this excellent Ribeye with Green Garlic Butter & Shaved Asparagus Salad. The very talented Lindsey McClave has developed a recipe just for us featuring our 100% Grassfed Beef ribeye and some of the best flavors of spring; Asparagus and green garlic!
Ribeye with Green Garlic Butter & Shaved Asparagus Salad
Serves 2-3
1 lb Foxhollow Farm Ribeye
oil for grilling
1 cup chopped asparagus
3 cups arugula
⅓ cup shaved pecorino romano cheese
2 tbs lemon juice
4 tbs olive oil
kosher salt
black pepper
Green Garlic Butter
8 tbs unsalted butter at room temperature
3 tbs minced green garlic, including green ends
½ tsp lemon zest
1 tsp lemon juice
⅛ tsp red pepper flakes
⅛ tsp kosher salt
Instructions:
For the green garlic butter, place all ingredients in a bowl & use a fork to blend until fully incorporated. Place a large sheet of plastic wrap on a flat surface & turn out the butter onto the plastic. Fold the end of the plastic wrap closest to you over the butter & roll it away from you, forming a log shape with the butter & sealing it on all sides. Place in the fridge to harden while you make the rest of the meal. Bring the steaks to room temperature. Pat dry & season liberally with salt & pepper on both sides. If using a grill, cook at medium-high heat directly over the flame. If using a cast iron skillet, also warm to medium-high heat & add 1 tbs grapeseed oil (or other neutral, high heat oil) to warm before adding the steak to the pan. Cook the ribeye for 5 minutes & then turn, cooking for an additional 3-5 minutes on the opposite side for medium-rare. Remove to a cutting board and allow to rest before slicing. While the steak is resting make the salad. Place the arugula and asparagus in a serving bowl. In a separate bowl, add the lemon juice, olive oil, ¼ tsp kosher salt & ⅛ tsp black pepper. Whisk to combine. Taste the dressing & add additional seasoning if desired. Toss the arugula & asparagus with 2 tbs of the dressing. Top with shaved pecorino cheese & serve with remaining dressing alongside. Slice the steak against the grain & top with slices of green garlic butter. Serve with salad & extra butter. Enjoy!
Check out our 100% grassfed beef products.