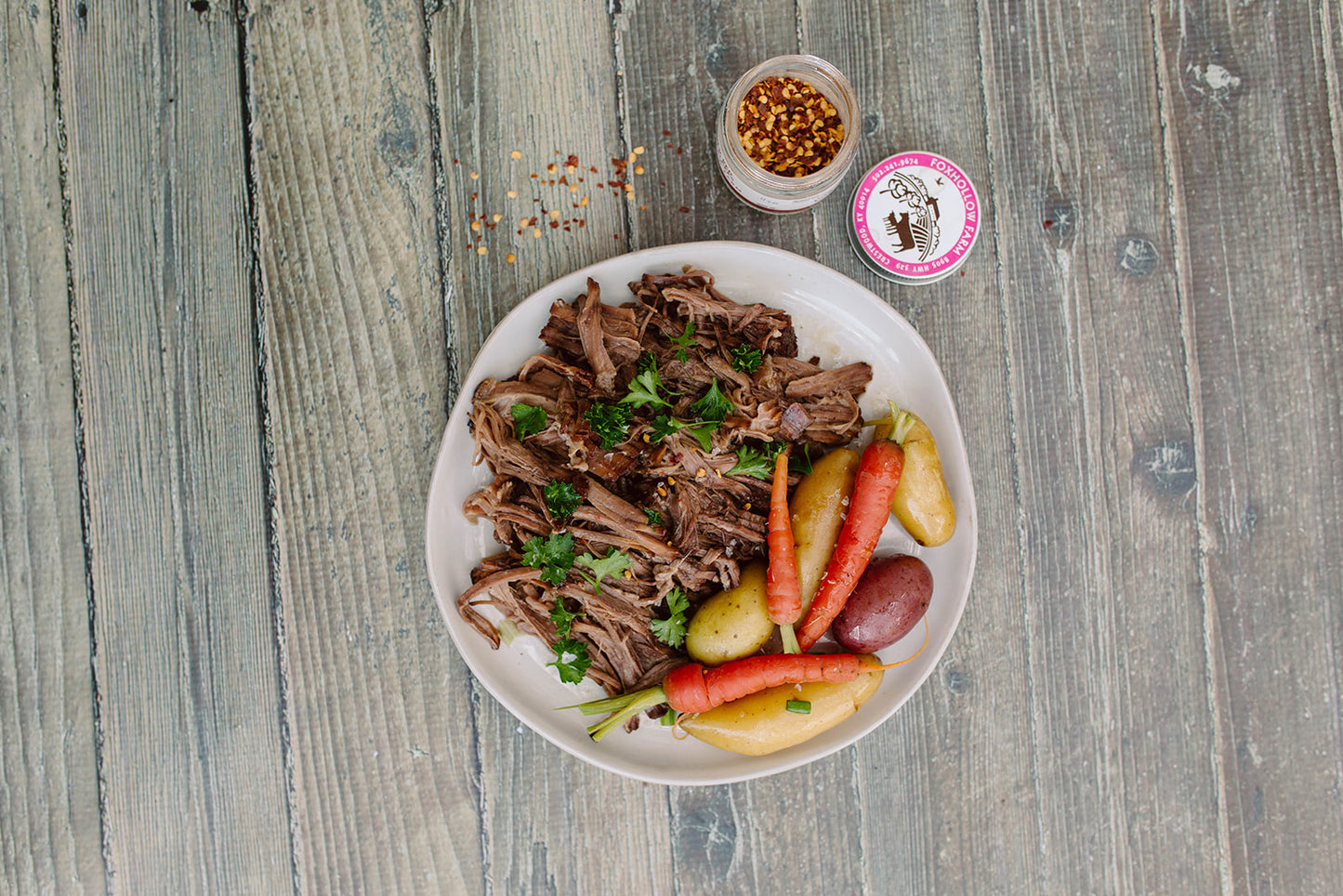 Salsa Verde Summer Pot Roast. When thinking of menus for the warm summer months, roasting meat in the oven doesn't usually pop up first. Most roast recipes include hearty broths, stews, and vegetables. The typical American "pot roast" includes potatoes, a hefty beef roast, carrots, and savory dark gravy. Comfort food is traditionally synonymous with cold weather months, and big warm blankets. During the summer, it is easy to forget about the versatility of those roasts.
Who can deny the convenience of the creation of a long-roasted meal? Whether in the oven low and slow or in a quick cooking appliance, the ease of creating a gorgeous one-pot meal is unmistakable. So why not in the summer? Choosing a roast in the summer is all about the cut of meat. It is necessary to use a cut that is marbled with fat in order to infuse that rich flavor without too much heat. Our favorite here at Foxhollow farm is the chuck roast. This forequarter cut is sometimes called the blade roast. It is a fatty cut of beef that comes from the area between the cow's neck and shoulder. The chuck roast is an inexpensive roast, accessible all the time from our Farm Market or online.
One fabulous way to summarize a hearty chuck roast is to give it some culture! This Mexican-style pot roast recipe is simply perfect for any backyard dinner party, warm Sunday afternoon, or just a regular old Tuesday night. Pairing the roast with tangy salsa verde, fresh herbs, and fluffy white rice lightens up the meal and gives great options for leftovers. This roast can be eaten in warm tortillas, plated over rice and smoky pinto beans, or in green chili and beef broth as a soup. This roast also offers a wide range of
options for leftovers! Tacos, burritos, quesadillas, OH MY! Tried and true roast recipes are always good, but sometimes adding variety and trying something new is even better. I just know the rich flavors and ease of this summer chuck roast recipe will take your roast game up a notch and will have your family and guests feeling full and happy this summer.
Ingredients:
Chuck Roast
2 tbs olive oil
10oz diced tomatoes with green chiles
1 cup beef stock
1 tbs ground cumin
1.5 tsp salt
1 tsp coriander
1 tsp paprika
½ tsp black pepper
½ tsp chili powder
3 cloves minced garlic
1 white onion sliced
Equipment needed
8-quart Dutch oven
Salsa Verde
1.5 lb fresh tomatillos husks removed
2 jalapenos, deseeded, membranes removed
1/2 white onion
3 cloves garlic
½ chopped cilantro
Juice from ½ lime
½ tsp salt
Instructions:
Preparing the Verde:
Preheat the oven to 400*F and cover a large baking sheet with parchment paper. Remove husks from Tomatillos and rinse with cool water to clean. Slice Tomatillos in half and lay the, cut side down onto baking sheet. Add halved, deseeded jalapenos, chopped
onion, and garlic cloves. Bake in the oven for 15-20 minutes until tomatillos are softened, then broil for an additional 3-5 minutes to get additional color on the tomatillos.
Remove from oven and allow to cool briefly. *Decrease oven temp to 320 in preparation of roast* Add all ingredients to a food processor or blender until all ingredients are mixed and combined and there are no large pieces remaining. Add a small bit of water if the mix is too thick, to reach desired consistency.
Preparing the roast
Make sure the oven is preheated oven to 325. Add 2 tbs olive oil to the Dutch Oven on the stovetop on medium/high heat. Coat chuck roast with salt, pepper, chili powder, and cumin. Place chuck roast in a hot Dutch Oven and sear on each side. About 5 minutes on each side. Set roast aside and add garlic to the pot. Sauté for 2-3 minutes. Add beef stock, tomatoes and green chilies, onion, and coriander to the pot. Stir well to deglaze the pot and add the roast back in. Cover and roast for 2-3 hours until the meat falls apart with a fork. Once done cooking, shred beef with 2 forks, cover with Salsa verde, and serve with white rice, tortillas, and extra Salsa Verde on the side.
*** This recipe is adapted from House of Yumm's Salsa Verde recipe and Southern Discourse's Ultimate Mexican Post Roast recipe ***