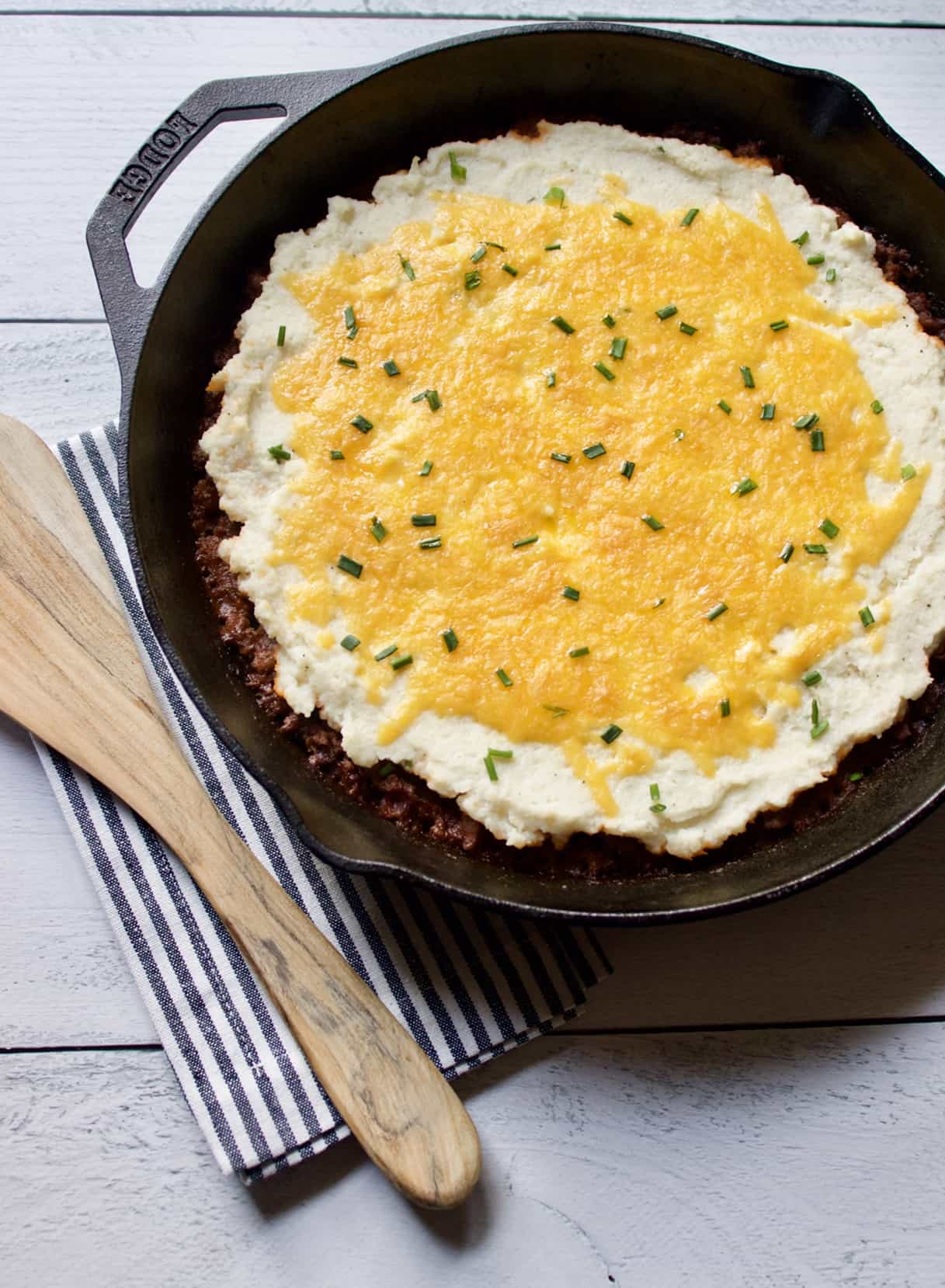 Beef Shepard's Pie Recipe
It's winter. You've survived the holiday rush. Congratulate yourself and reward your family with a healthy, hearty and delicious Beef Shepard's Pie.
This is one of our FAVORITES. Shepards Pie is a great way to comfortably feed a family of 4 dinner and still have some left over for the rest of the week. BTW - This is dish is KETO friendly for all of you who made a KETO-diet New Year's Resolution.
INGREDIENTS
2 tbsp avocado oil
1⁄4 cup onion chopped
1⁄2 cup mushrooms sliced
2 cloves garlic minced
2 slices bacon chopped
1 1⁄2 pounds ground beef
1⁄4 cup dry red wine or beef broth
1 tbsp Worcestershire
8 ounces tomato sauce
1⁄2 tsp black pepper
16 ounces cauliflower florets frozen
2 tbsp butter
2 tbsp heavy whipping cream more as needed
black pepper to taste
salt to taste
1⁄2 cup sharp cheddar
cheese shredded
chives optional garnish
Serves 4 to 6 people
INSTRUCTIONS
Preheat oven to 350 degrees.
Heat oil in medium-sized skillet over medium heat. Add onions and mushrooms, stir to coat them with oil. Cook for 10 minutes, stirring occasionally until the mushrooms are tender and the onion starts to caramelize. Stir in the garlic and cook for 1 more minute.
Add bacon and ground beef to the skillet crumbling it as it cooks. Continue cooking until the beef is no longer pink. Add wine, worcestershire sauce, tomato sauce and pepper to the beef mixture. Simmer until the liquid starts to cook down and the mixture is slightly thickened. Remove from heat.
Cook cauliflower according to package directions. Drain the excess liquid. Place cauliflower in a food processor or high speed blender. Add butter and cream and pulse until the mixture is smooth and creamy. Season to taste with salt and pepper.
Spread mashed cauliflower evenly over beef mixture and top with cheese. Bake for 20-25 minutes, or until heated through and the cheese is melted. Garnish with chives and enjoy! Serves 4 to 6
Notes
Total Carbs 8.5 grams
Net Carbs 5.9 grams
Fiber 2.5 grams
Protein 25.3 grams
Fat 34.2 grams
Calories 449