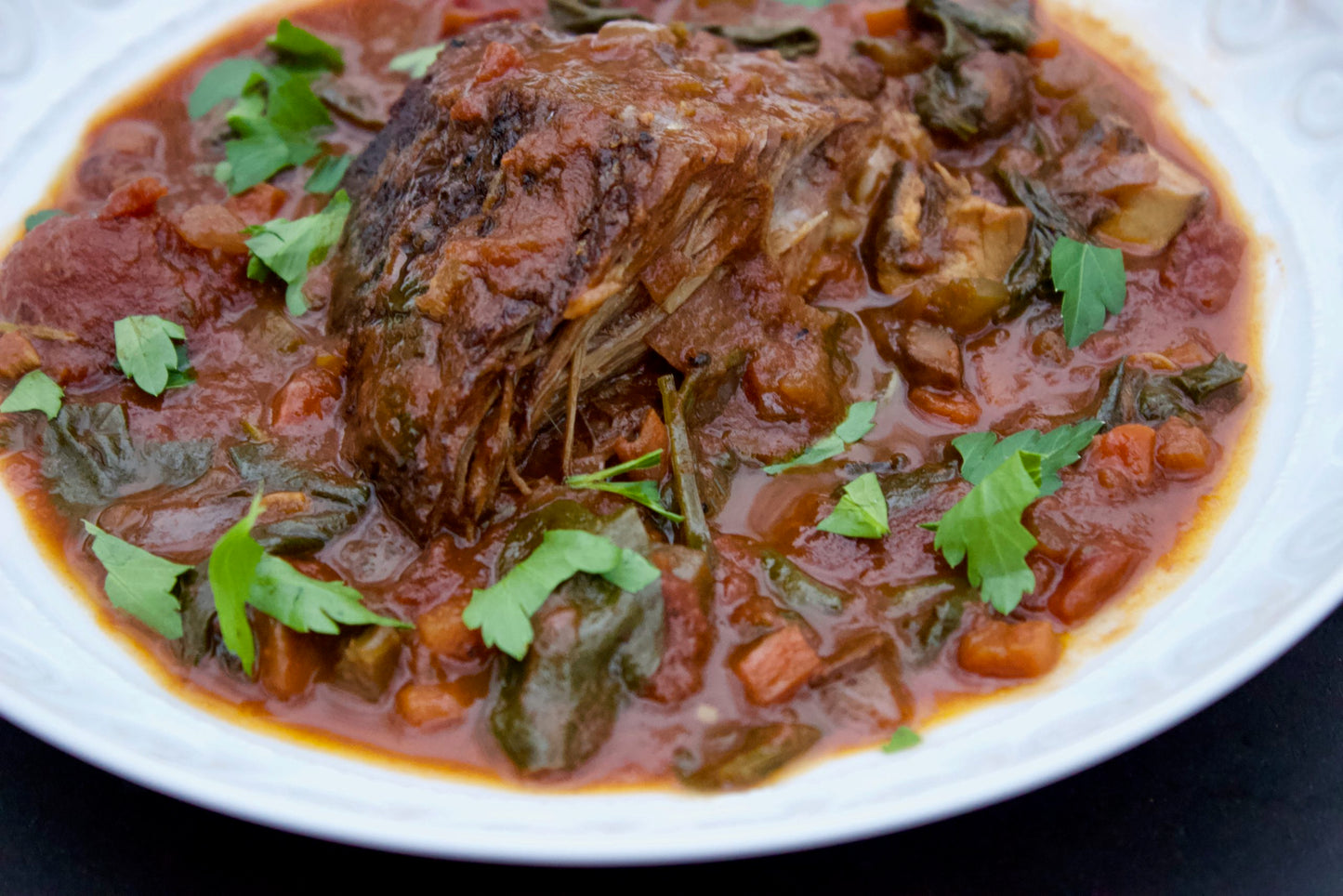 From hearty stews and flavorful roasts to juicy cuts great for sandwiches, roasts are always a great go-to to have in your freezer. This Pot Roast with Mushrooms recipe was created by Farmer & Foodie collaborator and Foxhollow Delivery recipe-creator, Lindsey McClave. This Chuck Roast recipe is perfect for these early spring days, after a full day spent outside!
Serves 6
1 3-4lb Foxhollow chuck roast

1 yellow onion, diced

2 large carrots, diced

3 stalks celery, diced

16oz baby bella mushrooms, stems removed

4 cloves garlic, thinly sliced

½ tsp red pepper flakes

1 heaping tbs tomato paste

2 tbs worcestershire

1 28oz can whole, peeled tomatoes

2 cups unsalted beef stock

2 cups dry red wine

1 large sprig rosemary

8 sprigs thyme

3 cups fresh spinach

2 tbs unsalted butter

2 tbs minced fresh parsley

grapeseed or other high heat, neutral oil

kosher salt

black pepper
Instructions:
Remove roast from fridge 1 hour before cooking & allow to come to room temperature. Pat dry & season liberally on all sides with salt & pepper.
Preheat the oven to 325°. Place a large, heavy bottom pot (one that has a lid) on the stove over medium-high heat. Add 2 tbs grapeseed oil &, once oil is hot but not smoking, add the roast. Sear on all four sides until well browned, about 3-5 minutes per side. Remove to a plate & set aside.
Turn off the heat on the pot & allow to cool for 1 minute before adding the onion, carrot & celery. Season with ½ tsp of salt & saute for 5 minutes. While the veggies are sauteing, slice 6 of the mushroom caps thinly & add to the pot. Toss with the other vegetables & cook for an additional 5-7 minutes, until everything begins to soften.
At this point add the garlic & red pepper flakes. Cook until fragrant, about 1 minute, & then stir in the tomato paste & worcestershire. Allow the tomato paste to melt into the vegetables, stirring often, for 2 minutes. Next, add the canned tomatoes individually, using your hands to crush each tomato. Pour in the remaining juice from the can along with the beef stock & red wine. Stir to combine & turn up the heat. Once boiling, return the roast to the pot, along with any accumulated juices. Use a piece of kitchen twine to tie together the rosemary & thyme sprigs.
Salud!