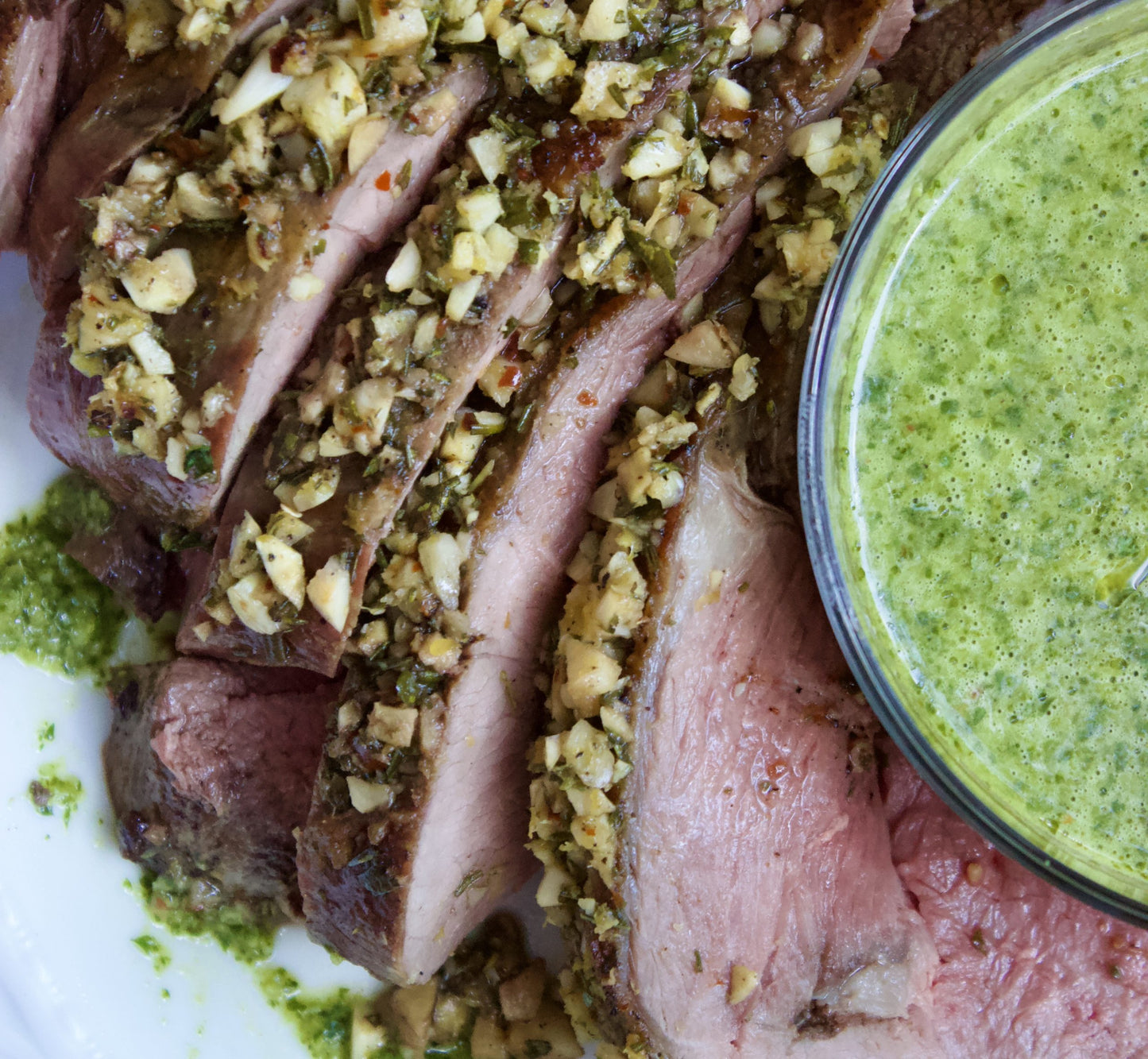 Leg of Lamb
1 Bone In Foxhollow Lamb Leg, 4-5lbs

6 cloves garlic, minced

2 inches fresh ginger root, peeled & minced

1 lemon, zested

½ tsp red pepper flakes

4 sprigs rosemary, stems removed & leaves minced

olive oil

kosher salt

black pepper
Chimichurri Sauce
¾ cup chopped parsley leaves

¾ cup chopped cilantro leaves

1 large clove garlic, chopped

1 inch fresh ginger, peeled & chopped

¼ cup red wine vinegar

the juice from ½ lemon

¼ tsp red pepper flakes

¼-⅓ cup olive oil

kosher salt

black pepper
Instructions:
Serves 4-6
Leg of Lamb
Remove lamb leg from fridge 1 hour before cooking & allow to come to room temperature. Pat dry. Arrange oven racks so that the lamb & roasting pan can fit in the middle, at least five inches below the broiler. Preheat the broiler & rub the leg all over with olive oil. Season liberally with salt & pepper. Place the lamb leg fat side down in the roasting pan. With the oven hood on & oven door cracked slightly, broil for 3-5 minutes, allowing the skin of the lamb to crisp & brown. Flip so that the fat side is up & broil for an additional 3-5 minutes. Remove from the oven & set aside. (Alternatively, you may brown the leg in a heavy bottom pot on the stove. Transfer to a roasting pan & proceed).
Preheat the oven to 325°. In a small bowl, mix together the garlic, ginger, lemon zest, red pepper flakes, rosemary, 2tbs olive oil, ½ tsp kosher salt, & ¼ tsp black pepper. Spoon the garlic & ginger mixture all over the top of the lamb leg. Tent with foil & transfer to the oven. Check the temperature after 1 hour of cooking - the leg will need to cook for approximately 20 minutes per pound for medium rare. You will want to remove the leg once it reaches 135° at the thickest part of the meat not touching the bone. Transfer to a cutting board & allow to rest for at least 20 minutes before slicing & serving with chimichurri sauce alongside.
Chimichurri Sauce
Place the parsley, cilantro, garlic, ginger, red wine vinegar, lemon juice, red pepper flakes, ½ tsp kosher salt, & ¼ tsp black pepper in the bowl of a food processor. Pulse until finely minced. Scrape down the sides of the bowl & then allow the blade to run while pouring ¼ cup of the olive oil through the feed tube. Taste & add additional olive oil, salt, & pepper until the sauce reaches your preferred consistency & taste. Serve alongside roast leg of lamb.