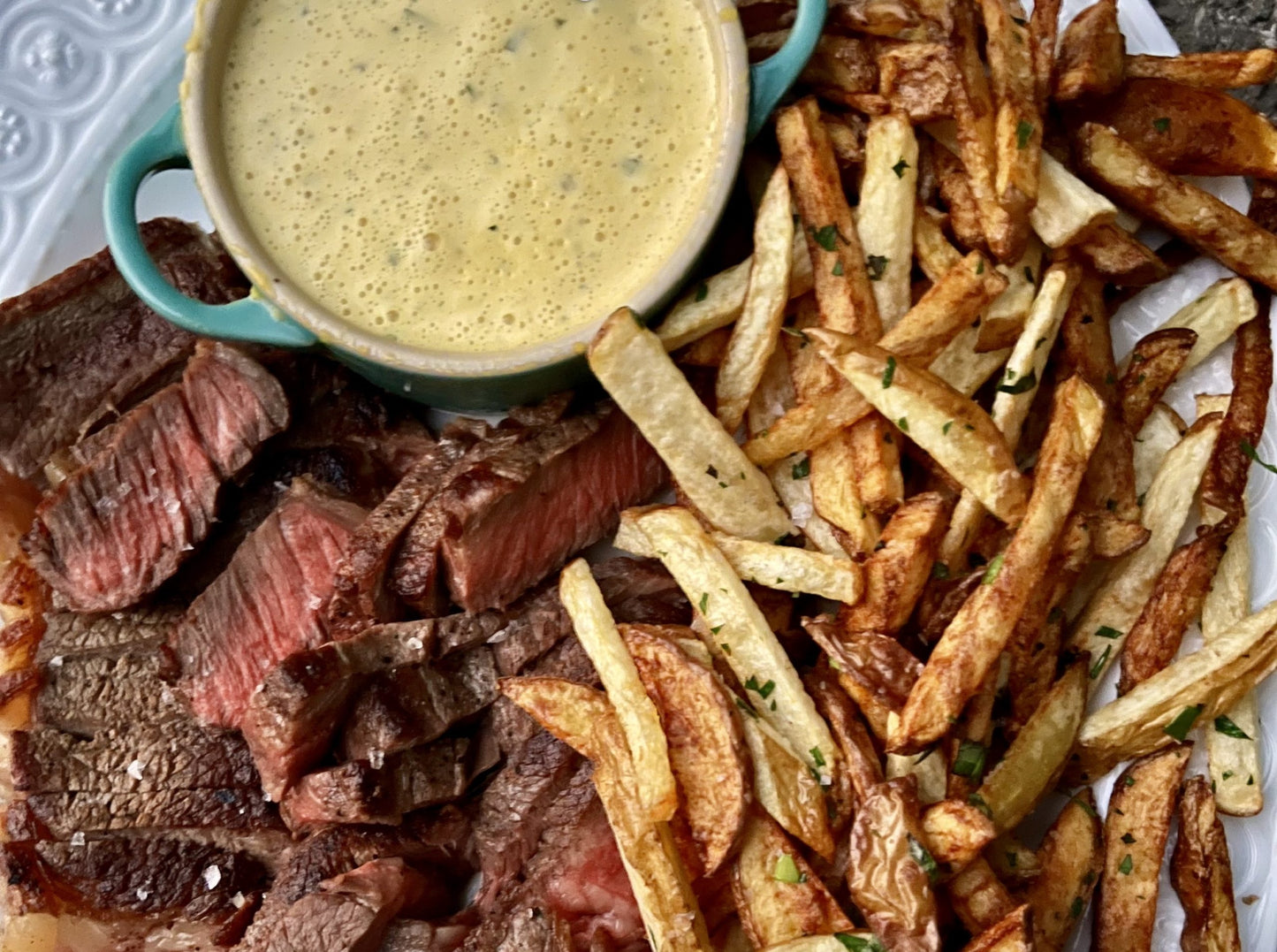 INGREDIENTS:
Serves 2-3
Steak Frites
2-3 Foxhollow Strip Steaks

2lbs white potatoes, preferably yukon gold

2 cloves garlic, smashed

2 sprigs fresh rosemary

2 tbs unsalted butter

8-10 cups frying oil, such as peanut

1 tbs high heat neutral oil, such as grapeseed

Maldon salt for garnish

kosher salt

black pepper
Garlic & Herb Bearnaise
½ cup dry white wine

½ cup white wine vinegar

2 cloves garlic, minced

¼ cup chopped green onion

small bunch mixed tender herbs such as parsley, basil, chives & cilantro

2 egg yolks

12 tbs unsalted butter, melted

kosher salt

black pepper
Instructions:
Steak Frites
Remove the steak from the fridge 30 minutes to an hour before cooking. Pat dry & set aside.
Slice the potatoes into equal sized sticks, about ¼ inch in thickness. Place in a large, heavy bottom pot & pour peanut oil on top until just covered. Turn the heat to medium-high, bringing the oil to a boil. Do not stir, this will take approximately 5 minutes. After 5 minutes, the oil should be simmering if not boiling. Allow the potatoes to fry for 15 more minutes, undisturbed. Do not stir as that will cause potatoes to break apart. After 15 minutes, carefully stir the potatoes, making sure to gently turn those at the bottom of the pot over. Continue to cook for 5 or so minutes, stirring occasionally, until the potatoes are crispy & brown. Line a sheet pan with paper towels & use a spider strainer or slotted spoon to transfer the potatoes to the pan, allowing any excess oil to drip off back into the pot. Season immediately with a generous shower of kosher salt & serve immediately alongside steak & with bearnaise sauce for dipping.
While the frites are frying, cook the steak. Set a cast iron skillet over medium heat & add 1 tbs neutral oil. Season both sides of the steak liberally with kosher salt & pepper. Once the oil is hot but not smoking, place in the skillet. Cook over medium heat for two minutes before flipping, cooking for an additional 2 minutes on the other side. Flip again, cooking for one additional minute on each side. Give one final flip & add the smashed garlic cloves, rosemary sprigs & butter to the skillet. Carefully tip the pan toward you, causing the butter to run to the bottom & use a large spoon to then baste the steaks with the butter as it foams. Baste for up to 1 minute before removing steaks to a cutting board to rest for 10 minutes before serving with frites & garlic & herb bearnaise.
Garlic & Herb Bearnaise
Separate stems from the herbs & roughly chop both the stems & the leaves separately. Add chopped herb stems to a small saucepan along with the wine, vinegar, garlic, & onion. Bring to a boil & then reduce heat to a simmer, allowing the wine mixture to reduce until only 2 tbs of liquid remains. Remove from the heat & strain through a fine mesh strainer into a bowl. Discard solids & place wine mixture into a jar just large enough to fit the head of a handheld immersion blender or the whisk attachment of a handheld mixer. Add the egg yolks to the wine mixture along with ¼ tsp kosher salt. Place the whisk/blender in the jar & turn on, blending at a high speed while slowly pouring the warm, melted butter into the mixture. The wine, eggs & butter should begin to emulsify & create a creamy, slightly frothy sauce. Taste & add additional salt & pepper to taste. Stir in chopped herbs and serve immediately alongside steak frites.