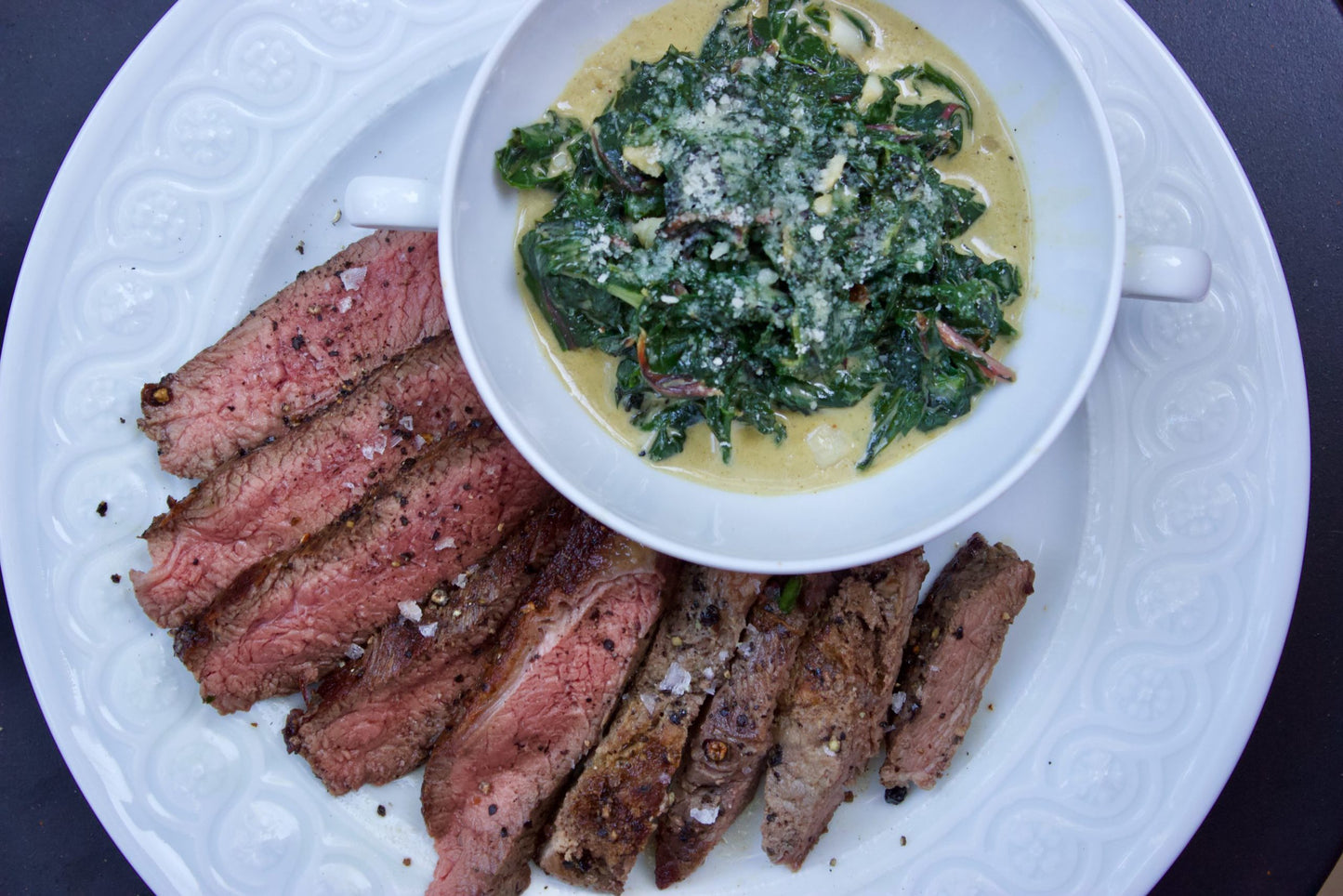 Either in the caste-iron or on the grill, this recipe is sure to please for a stay at home date night. Enjoy this Peppercorn Crusted Top Sirloin recipe created by Farmer & Foodie collaborator, Lindsey McClave.
Ingredients:
1 lb Foxhollow top sirloin steak
1.5 tsp whole peppercorns
½ tsp kosher salt
1 cup heavy cream
3 cloves garlic, smashed
2 sprigs fresh thyme
pinch nutmeg
1 large bunch Swiss chard, stems removed & reserved for future use, leaves roughly chopped
2 tbs neutral, high heat oil such as grapeseed or safflower
Maldon salt
black pepper
INSTRUCTIONS
Place the peppercorns in a mortar & use a pestle to grind to a rough texture, broken down but not a fine powder. Crushing the peppercorns underneath a heavy bottomed pot or cast iron pan will work as well. Transfer to a bowl & set aside.
Remove the steak from the fridge & pat dry. Sprinkle all sides of the steak liberally with the ground peppercorns & ½ tsp kosher salt (there will likely be ground pepper remaining). Allow to sit at room temperature for 30 minutes before cooking.
Heat a cast iron pan over medium high heat until very hot. Add 1 tbs neutral oil &, once warm, place the steak in the pan. Cook for 4-5 minutes on the first side before flipping, cooking for an additional 3-4 minutes on the second side for medium rare. Remove to a plate & tent lightly with foil. Allow to rest for 10 minutes before slicing.
While the steak is resting, place the cream, garlic, thyme, nutmeg, a pinch of salt, & a pinch of the remaining ground black pepper in a small saucepan. Turn the heat to medium & bring to a simmer. Keep an eye on the cream while it continues to simmer & reduce, stirring occasionally, for 6-8 minutes. While the cream is reducing, turn the heat on the cast iron skillet off & allow the pan to cool for 1 minute before adding the remaining tbs of oil. Return the heat to medium low & add the Swiss chard to the skillet. Toss the greens in the oil & steak pan drippings until they wilt & reduce in size, becoming very soft. Pour the reduced cream over the wilted greens & toss to combine. Continue to cook over medium heat, allowing the cream to bubble & reduce further while infusing the greens, for 3 minutes. Taste & add additional salt & pepper if desired.
Use a slotted spoon to transfer the greens to a dish & serve alongside the sirloin steak. Garnish steak with a sprinkle of remaining ground pepper & maldon salt.