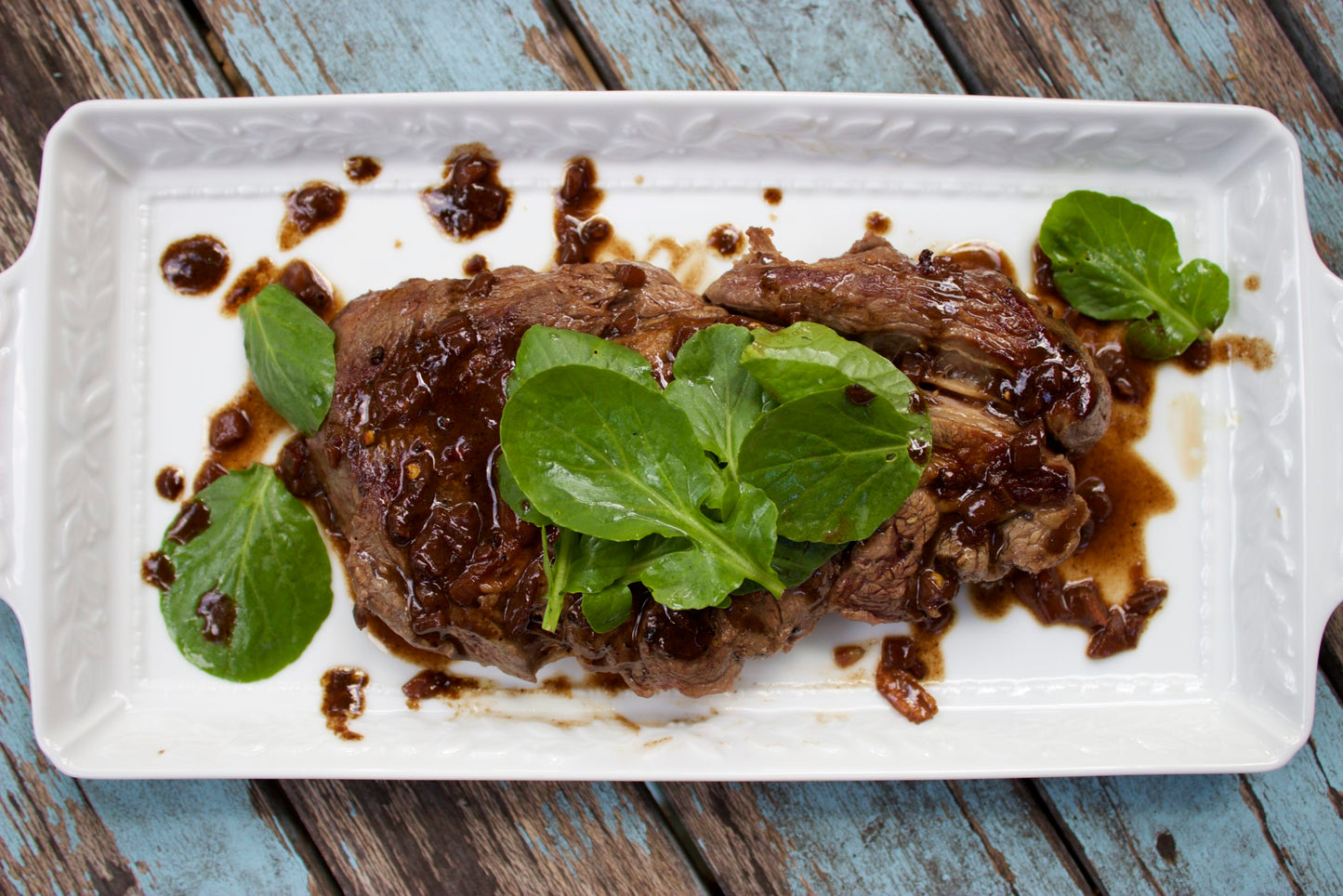 The Ribeye steak is a favorite cut for so many people, and for good reason. It's beautiful marbling creates tenderness and flavor that can't be beat. This Ribeye with Wine Sauce recipe was created by the ever talented
Lindsey McClave
is easy and gourmet at the same time. Make it for that special someone for a stay at home date!
Serves 2-4
Ingredients
+ Foxhollow Farm grassfed ribeye steaks
+ 1 tbs high heat, neutral oil such as canola or vegetable
+ 4 cloves garlic, smashed
+ 1⁄2 cup dry red wine + 1 tsp soy sauce + 1⁄2 tsp lemon juice + 1/3 cup locally grown watercress + 2 tbs unsalted butter
+ kosher salt
+ Bourbon Barrel Foods smoked black pepper
Instructions Remove the ribeyes from the packaging and pat dry. Allow the ribeyes to come to room temperature and season liberally on both sides with kosher salt and bourbon smoked black pepper.
Warm a cast iron skillet over medium high heat and add the oil. Allow the oil to warm until very hot, but not smoking, before adding the ribeyes to the skillet. Cook for 4 minutes per side for medium rare (based on 1 inch thick steak). Remove from the heat and transfer to a plate. Tent with foil and allow to rest for 10 minutes.
While the steak is resting make the sauce in the same skillet used to cook the steak. Turn the heat off and allow the skillet to cool for 1 minute before turning the heat back up to medium. Add the shallots, garlic, red pepper flakes, and rosemary sprig to the skillet and sauté in the meat drippings until fragrant and the shallots have begun to soften, 2-3 minutes. Add the red wine and soy sauce and stir, deglazing the skillet and using awooden spoon to scrape up any remaining bits of beef. Bring the wine sauce to a simmer, add any pan drippings that have gathered from the steak to the sauce, and cook over medium low heat, stirring often, until reduced by half and thickened, 3-4 minutes.
Discard the rosemary sprig and large chunks of garlic before adding the butter. Whisk until the butter has melted and allow to simmer over low heat for 1 final minute. Set aside.
Toss the watercress with the lemon juice and a small pinch of kosher salt. Plate the ribeyes and spoon the red wine sauce overtop. Garnish with the watercress and serve.