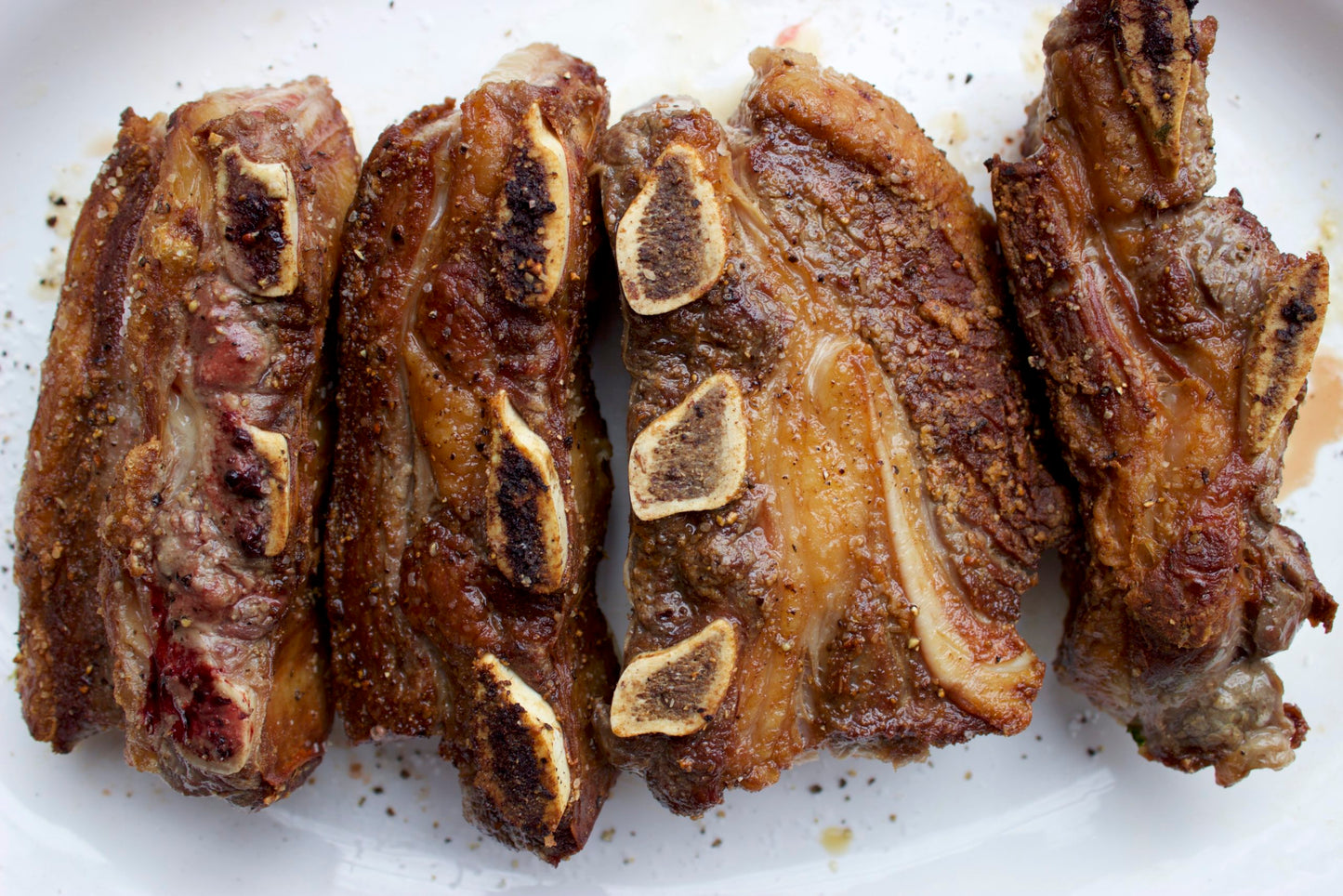 Short ribs are a little-known, versatile cut packed with flavor. This recipe mixes short ribs with pasta and greens for an easy weeknight dinner with a little extra flair. Special thanks to our friend
Lindsey McClave
for creating and sharing this Grassfed Short Ribs with Pasta & Greens recipe for
Foxhollow Delivery
, our monthly subscription service from our farm to your door.
Serves 4
Ingredients:
3-4 lbs Foxhollow grassfed, bone-in short ribs

1 lb wide noodle pasta such as pappardelle

1 cup chopped onion

¾ cup chopped celery

¾ cup chopped carrots

3 cloves garlic, chopped

½ tsp red pepper flakes

2 tbs tomato paste

1 28oz can whole peeled tomatoes with juice (crush the tomatoes with your hands)

2 cups dry red wine

2 cups unsalted beef stock

8 sprigs fresh thyme

2 sprigs fresh oregano

5 large swiss chard leaves, stems remove (or other thick leafy green)

¼ cup minced parsley

¼ cup grated parmesan cheese

neutral oil such as grapeseed

kosher salt

black pepper
Instructions:
Preheat oven to 325°. Pat short ribs dry & season liberally on all sides with kosher salt & pepper. Allow to come to room temperature.

Warm dutch oven over medium-high heat & add oil. Once oil is shimmering, add short ribs & sear in batches, cooking on all sides until brown, 2-3 minutes/side. Remove short ribs & set aside.

Reduce heat on the pot to medium & cool a bit before adding onion, celery, & carrot to meat drippings. Sauté until veggies begin to soften, about 10 minutes, adding the garlic & red pepper flakes halfway through. Once veggies are becoming translucent, add tomato paste & stir to combine. Next add crushed tomatoes & juice to the pot along with wine & stock. Stir well & bring to a boil. Return short ribs to the pot along with any drippings & top with thyme & oregano. Put a lid on the pot & transfer to oven. Cook for 2.5 hours.

After 2.5 hours, remove pot from oven & transfer short ribs to a plate. Strain cooking liquid into a bowl, discarding solids. Return cooking liquid to the pot & bring to a simmer.

Using two forks, shred the short ribs, discarding excess fat & bones. Return shredded meat to sauce. Simmer on low.

Fill a large pot with water & bring to a boil. Add 2 tbs kosher salt along with pasta. Cook 1 minute less than package direction instructs.

While pasta cooks add greens to short rib sauce. Stir to combine. When pasta is ready, transfer directly to sauce & toss to combine. Cook on medium heat for 2 minutes, allowing sauce & pasta to meld. Transfer to serving dish & garnish with parsley & parmesan.
Check out our 100% grassfedb beef products
.