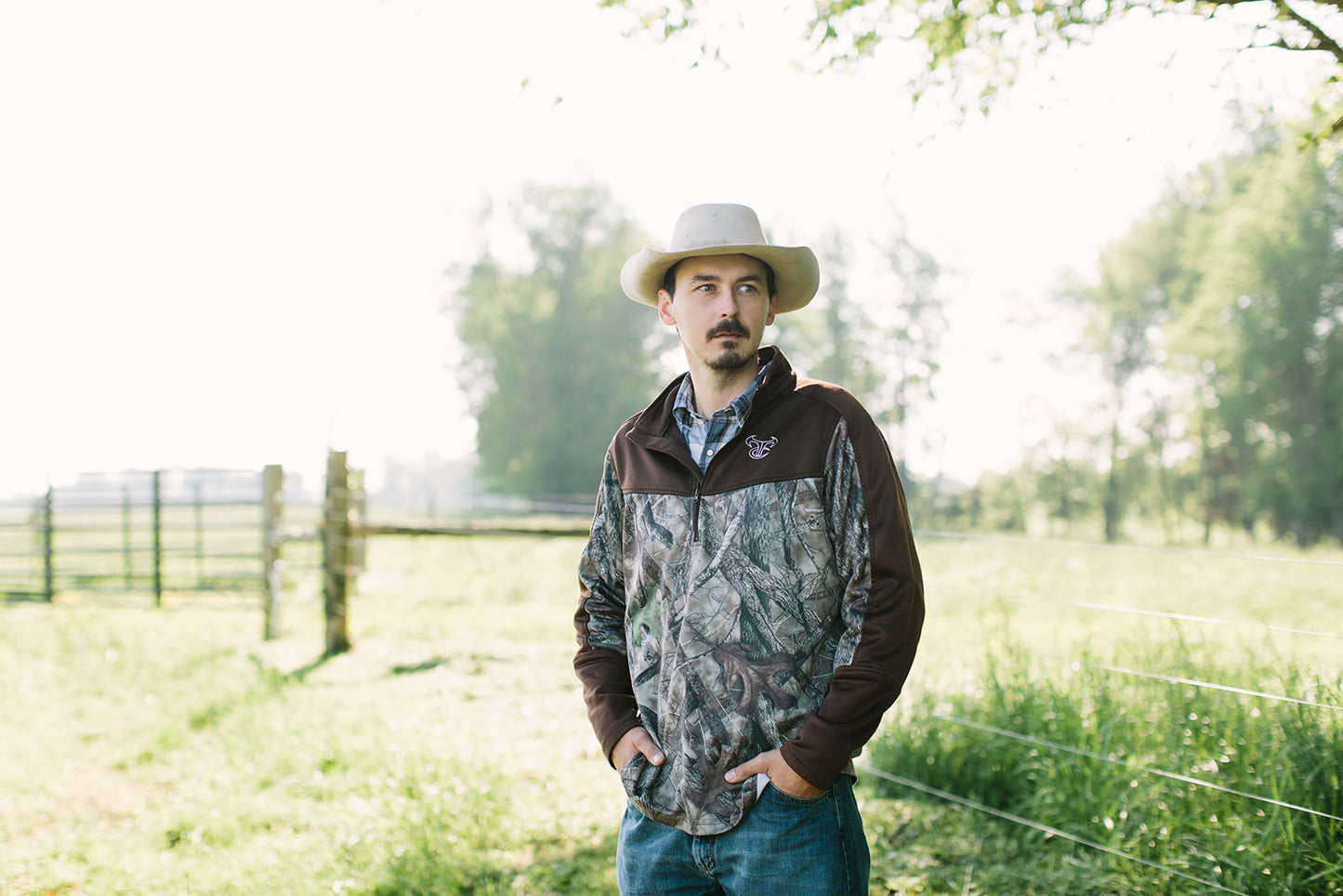 He's our local hero! One of the most important pieces of advice we pass on to people who call us is to
know your farmer.
That's important for a few reasons. Firstly, it means you're buying local. Secondly, it gives you a chance to see if your food values match that of the person who raises your food. Lastly, and perhaps most importantly, it gives you the chance to understand and pay respect for the long hours and dedicated work that goes into feeding our community. At Foxhollow Farm, our unsung hero is Derek Lawson, our Master Cattleman. For the past five years, he's skillfully led the grassfed beef program here. To celebrate his fifth anniversary with the farm, we invite you to join us in nominating him for
Edible Louisville's Local Hero Award.
Derek grew up around conventional farms, but has chosen a very different path. He studied at Murray State, gaining a B.S in Food Animal and Equine Science. He finished his Masters, specializing in Beef Cattle Rotational Grazing, while working full time at Foxhollow. While he brings a wonderful educational background with him, it has been his passion, impeccable standards, and innovative practices that have made him invaluable to Foxhollow Farm and the community at large. Derek's approach to raising cattle manages to be practical while never compromising his philosophy. He is incredibly thoughtful and incorporates carefully selected typical and rare cattle breeds: including red and black Angus, Barzona, Short-Horn, Corriente, and Jersey. He studies and adapts genetics over generations of cattle to breed and raise animals that are perfectly suited to our land, the unpredictable Kentucky climate, and an all-grass diet. Laura Riccardi Lyvers, a biodynamic consultant, describes Derek's innovative methods: "He
likes
thinking out of the box. And he dares to do things differently if there is hope for a healthier herd or pasture." As Derek's vision for our herd comes to fruition, his day-to-day practices, such as continuously moving the cattle to fresh pasture and his commitment to no hormones, antibiotics, or GMOs as well as his careful curation and meticulous practices result in healthy animals and incredible flavor. Derek holds his fellow cattlemen to the same rigorous standards. He is an active member of the Oldham County Cattleman's Association. He is committed to teaching new farmers, and donates his time leading tours for people from all backgrounds; from the busloads of FFA members, to top investors attending the National Slow Money Conference, to local Garden Clubs. He personally visits and mentors farmers through our Community Raised Program, encouraging them to raise their cattle using the most earth-friendly and sustainable methods of rotational grazing that fit each individual farm. Paul Keith, a cattle farmer in our
Community Raised Program
, explains, "He's helped me with a grazing plan and has it all outlined. He helped with explaining about minerals and what they do for my cattle—he's not stingy with his information. If I have a problem I'll call him and ask. He always has new insight on things." He takes pride in what it means to be a beef farmer, to be responsible for the land, and to do right by your cattle. His passion for his work as a cattleman is apparent. He and his family live on the farm, and Derek makes himself available to his cattle 24/7. He's been known to search out a stray calf into the wee hours or give physical therapy to an injured calf. Over the course of so many hours spent, he develops a relationship with each animal. Driving through the pastures with Derek, odds are that he can not only name a cow's parents and calves, but also tell you a funny story about some antics she got into last summer. Riccardi Lyvers says it best, "He has a way with cattle. I have seen guys that can work cattle well, for sure. But I hadn't seen, until I worked with Derek, someone who actually seems connected to the herd or the individual animal. He flows with the moment and the animal and in his quiet, peaceful way, the animal does what he wants or needs it to do." For Derek, farming is personal. At Foxhollow Farm, we could not be more grateful to Derek for the care he brings to his life as a farmer. That's why we would love to honor him as one of
Edible Louisville
's 2016 Local Heroes. Vote by visiting
Edible's Local Heroes
survey and entering Derek Lawson as your *** "Favorite Bluegrass Farmer" ***