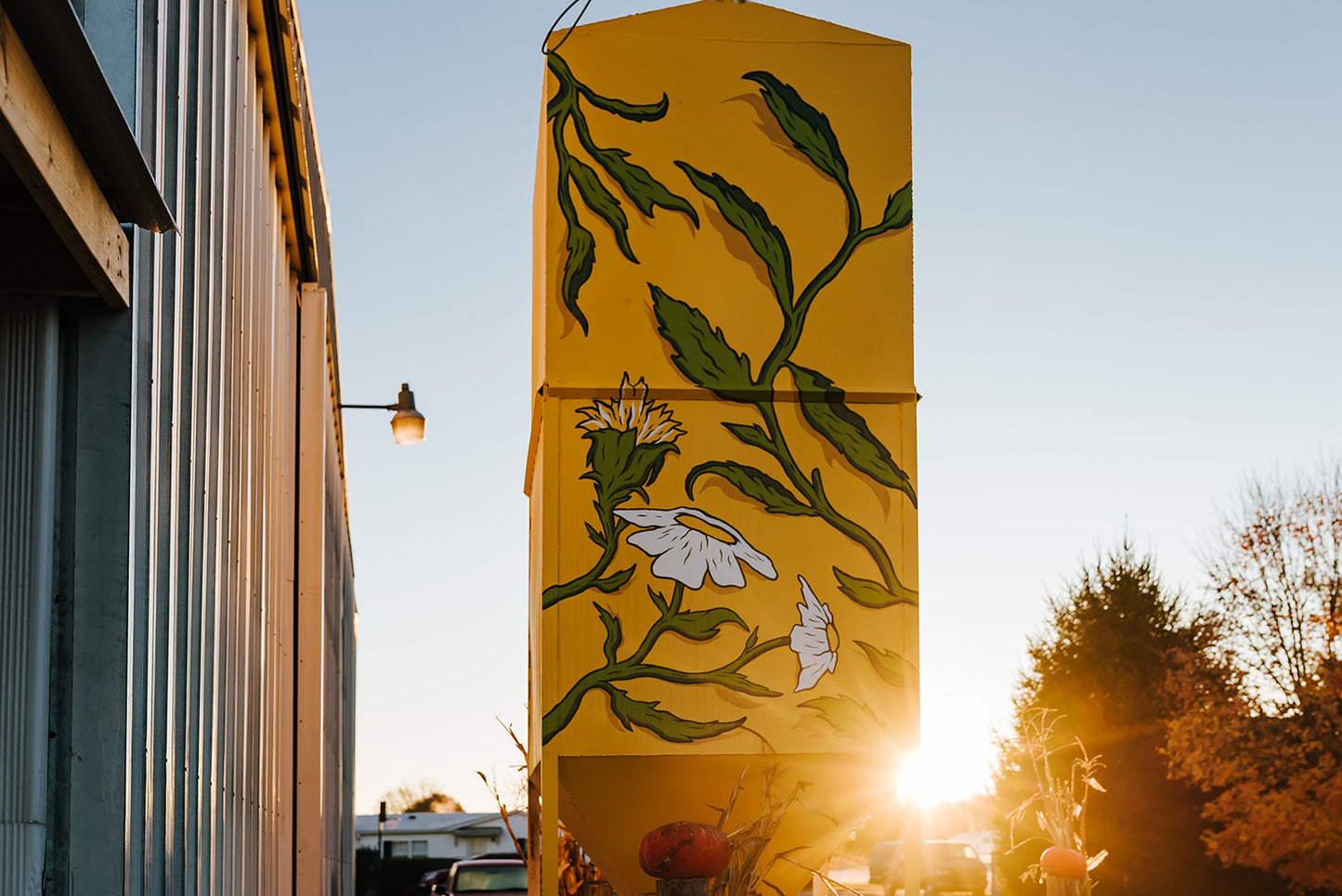 Did you know that Foxhollow Farm has an on-farm Market? We sure do! You may remember past market spaces on the farm, but this one is new! Since we do the majority of our work in the big white barn, we saw fit to create a market space right where the action happens. We've got winter market offerings you don't want to miss.
Opening in the spring of last year we have created a space that evokes feelings of walking into an old-fashioned country store. The staff are smiling, the barn cats are busy, and the inventory changes with the seasons. Currently, while the earth here in Crestwood is still frozen, our market inventory is based on our beef, chicken, bison, and pork. We have a few sweet potatoes and some squash that is weathering well too! As the earth thaws, we will begin to have farm fresh vegetables and wildflowers available.
Along with our grocery offerings, we also stock our shelves with locally made, small business items. We have candles made by a local artist named Dierdra Barnes who owns F.L.Y. girl candles. These candles are soy based and scented with the most amazing natural fragrances. Dierdre even created a custom scent specifically for Foxhollow Farm with notes of lemongrass, rose, and cedar wood! We're also offering more Foxhollow swag with two new sweatshirt designs. For the month of February, each sweatshirt is 5.00 off to anyone that comes into the market! That's a deal worth visiting for!
We also stock honey from local apiaries, as well as from the bees right here on Foxhollow farm. If you're looking for local honey, we definitely have what you need. Have you ever tried Sorghum? Do you know what Sorghum is? For most guests, Sorghum evokes memories of buttery biscuits at grandma's house on an early Sunday morning. If you haven't tried our Towsend Sorghum, you are missing out. Maple syrup is another item that we have sourced locally. A family-run farm in Scottsville, KY has created the richest, most beautifully golden maple syrup. We also have maple candies and plan to restock our maple marinade which was a big seller this summer.
Last summer we scoured local farmer's markets and craft shows to find artisans who we felt were in line with our desire to heal the earth. We found items that not only benefit the customer but also lend something good to our earth and community. We, as a locally run small business, feel that it is our job to give other small local businesses a place to shine! So not only are we using our market for our profit, but we also want to use it to profit those around us that are working hard to make products that heal the earth.
Keep your eyes peeled in the coming weeks and months as we plan to focus on items in our market. There will be sales, incentives, and giveaways for our wonderful customers. We encourage all Foxhollow Farm customers to join us on our social media platforms as well as our email newsletter. We look forward to meeting you and getting to know our customers by name and face!
As always, thank you for supporting our family farm and our growing biodynamic community
See you in the Foxhollow Market!
Nikki