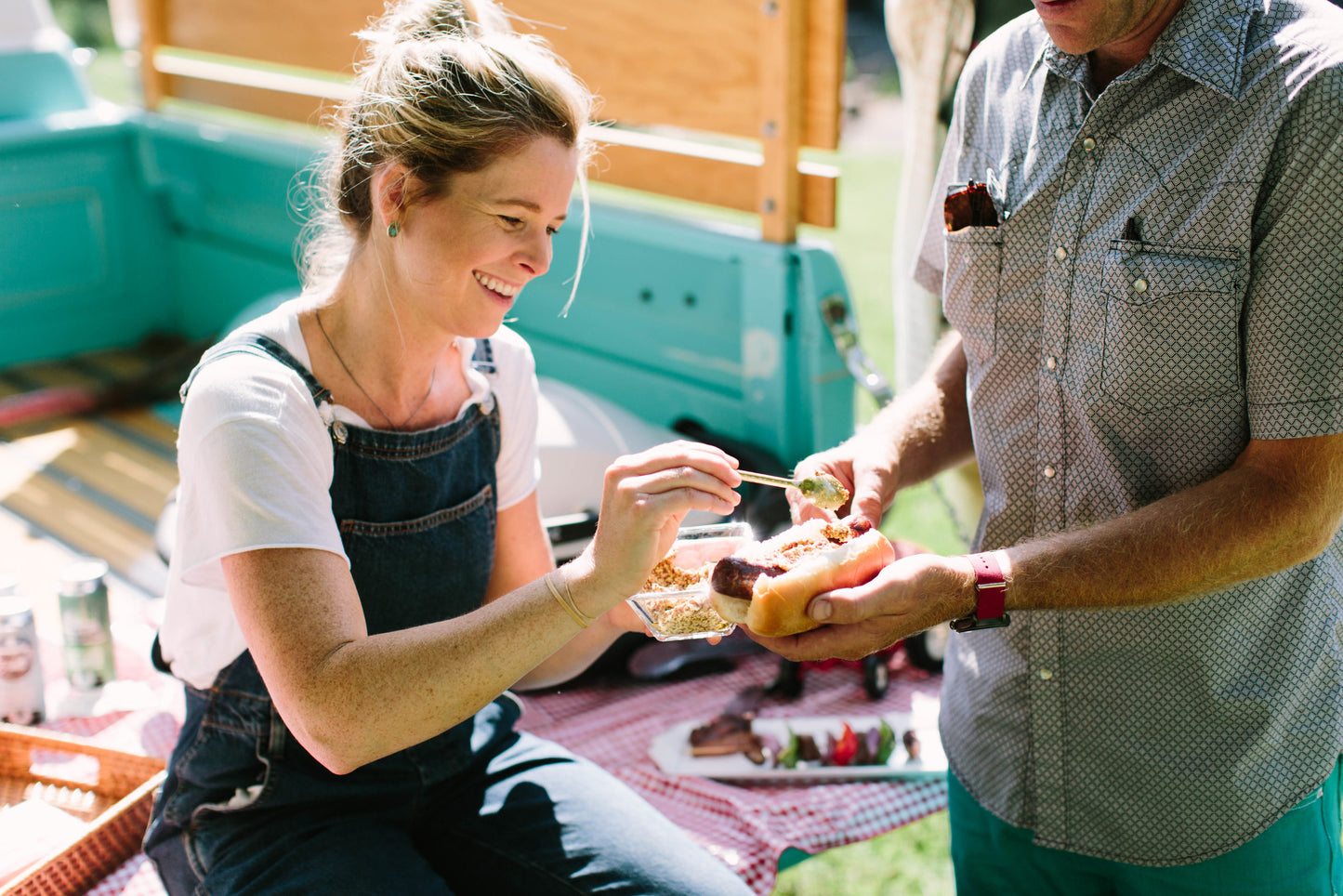 Gather Round the Grill
Summer is a time for gathering, noshing on fall-off-the-bone ribs, smoking hunks of meat, and throwing the perfect al fresco parties. Here at Foxhollow Farm, we are pretty used to being outside. We also understand that outdoor entertaining can be tough...thunderstorms, humidity, and mosquitoes can put a damper on a backyard BBQ.
bbq buds
Shotty forecasts and the potential blood-sucking bugs doesn't stop us. Grab some citronella candles (Or make these adorable homemade bug repellent centerpieces from HGTV), brew some herbal sun tea, grab a Summer BBQ Bundle, and dust off that outdoor furniture!
All-Beef Hot Dog Party!
We could drool over Pinterest pictures of gourmet burger bars all day. Our 100% grassfed ground beef makes for the tastiest of burgers. Plus this is the time of year when we have all the Kentucky farm fresh toppings- quick pickled cucumbers, heirloom tomatoes, and bibb lettuce. As of late, we have been living in a hot dog bubble.
Our 100% Grassfed Beef Hot Dogs are a Summer BBQ party staple. They are simple, quick to cook, flavorful, and healthy!
This summer, we will be taking the Hot Dog Bar to the next level. First, start with hot dogs you can trust (like our 100% All-Beef Hot Dogs), quick pickle fresh onions and jalapeños, grab some pretzel buns, and chop up Kentucky's best heirloom tomatoes
Making some Beer Cheese with Milewide Beer Co.'s McPoyle Milk Stout isn't a bad idea either.
Summer BBQ Brisket!
Smoked BBQ Brisket is by far one of the most scrumptious Summer BBQ show stoppers. Foxhollow Farm's Briskets are typically cut in half so you can enjoy both the Brisket Flat half and the Brisket Pointed half. Smaller briskets mean less cooking time (even though it does still take about 4-5 hours to smoke a smaller brisket, it's still well worth the wait). Better Homes and Gardens has some great tips on cooking brisket. Serve brisket with a side of Pavel's Garden potato salad for the perfect farm fresh summer BBQ meal. When the forecast is looking a bit iffy, and you're not sure if you are up for stoking the smoker all day or standing by the grill, try braising short ribs in the oven. You pop them in the oven, then forget about them while they cook low and slow. The smell of a beef-tastic summer will fill the house when you pull the flavor soaked beef right off the bone.
Summer Short Ribs
Check out this recipe for Short Rib Tacos by The Farmer and The Foodie. Still want to grill those ribs? You can slice the meat of the short ribs into a thin long strip and Korean Style Short Ribs like this recipe from the NY Times.
To top it all off, grab some flowers from Pure Pollen Flowers and make a few summer BBQ centerpieces with farm-fresh flowers.
We hope you are inspired to invite some friends over for all the summer BBQ fun. And don't forget, to enjoy the freshest flavors of summer, support your local farmers.