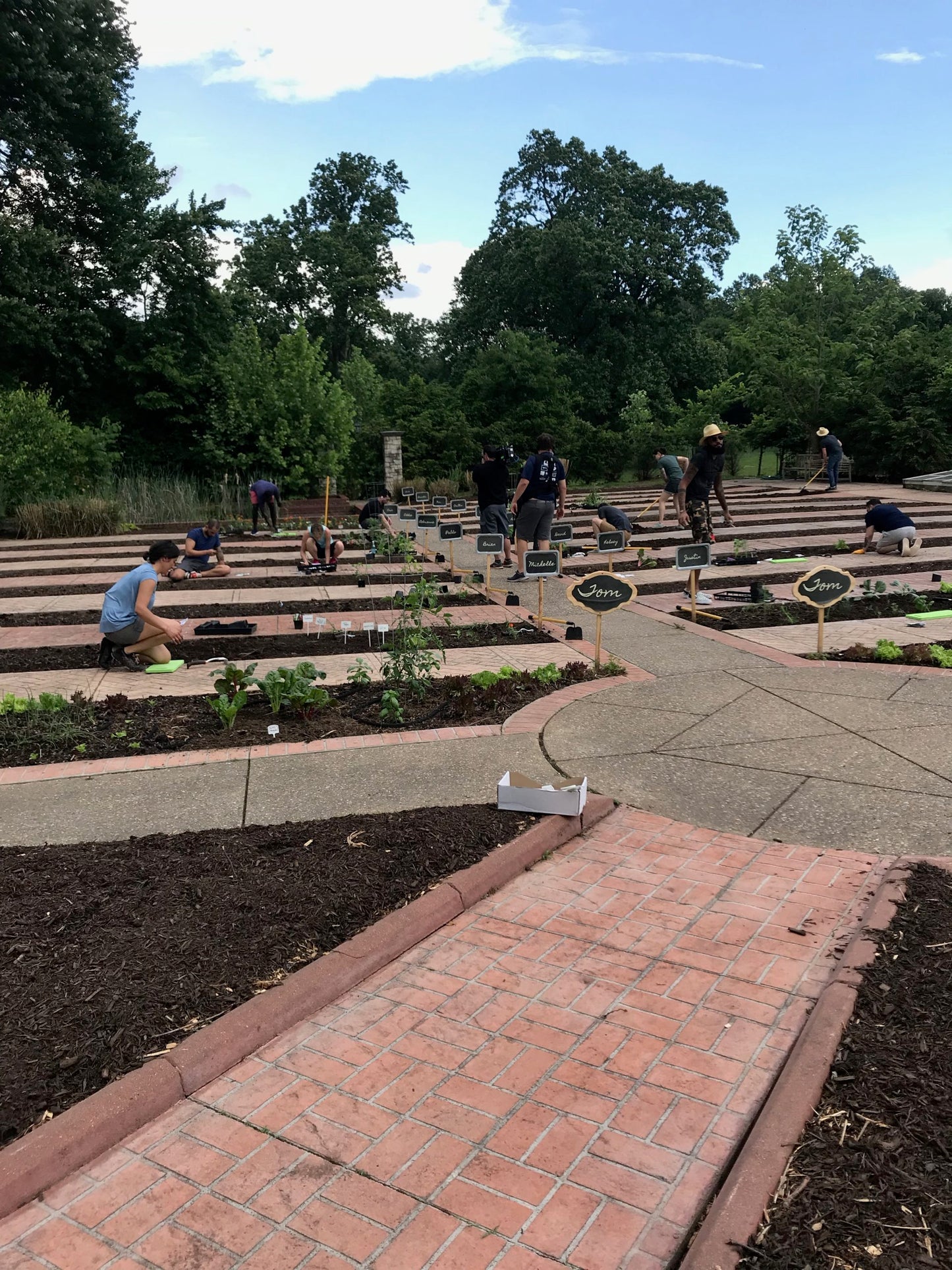 Top Chef Garden
When I heard that I'd be working as the Cast House Gardener for Top Chef I was elated. Not just because I'm proud of our Kentucky farms, but also because my dear friend, Lindsey McClave, and were in the middle of filming the first season of
The Farmer and the Foodie
. I saw this as a chance to learn what it takes to produce a TV show...from the best in the business!
In just a week, and with assistance from an amazing community, I had thriving garden beds and a lush greenhouse ready for the excited "cheftestants" of Top Chef Season 16.
The cast awoke to a note from venerable chef and host of the show, Tom Colicchio. The cryptic message introduced a new twist this season- the house vegetable garden. The cast members learned that they each had a garden bed to plant.
They would use what they grew throughout the season.
While the cheftestants learned about the garden, the producers were excitedly rushing behind the scenes to put the final touches on it. As I was working hoeing the garden beds, producers grabbed the same tools to hide the logos with tape. Soon, a few curious cast members came to investigate the beds. I wasn't allowed to tell them much - though I tried to guide them a little.
They had a short amount of time to grow a healthy bed of vegetables and herbs. I tried to dissuade them from a bed full of tempting tomatoes and zucchini and guide them toward faster growing plants with more edible parts. If a chef asked me if a leaf had good flavor or if a root would be tasty, my advice was always a cheery, "try it and see!"
Even though it was only episode 2, they were already tense from the pressure of the show.
As we started to work in the garden I saw stress release from their shoulders. It was an important and visceral reminder of just how good it feels to connect with nature and get one's hands working the soil.
Each of the chefs was engaging and curious. I was especially excited to meet Sarah, a chef from Paducah, KY, who I learned was a huge advocate for Kentucky farmers. In fact, we kept in touch after the show wrapped and reconnected with her for the final episode of
The Farmer and the Foodie,
season 1. She was our tour guide and connected us to some amazing farmers in Paducah.
I had a huge variety of starts and seeds for the chefs to choose from to make the garden their own. There were baby plants lined up in the greenhouse of lettuces, Little Fingers eggplant, collard greens, rainbow swiss chard, and dill. There were tomatoes galore; Sweetie Cherry, Yellow Perfection, Matt's Wild, Cherokee Green and Cherokee Purple. They could plant Hakurei turnips, Astro arugula, Hong Vit radish greens and French Breakfast radishes from seed. I couldn't wait to see what they would prepare with this bounty over the next month.
Next time - gardening with the Top Chef Cast gives me hope for the future of chef / farmer partnerships
Top Chef – Season 16 Episode 3 Preview