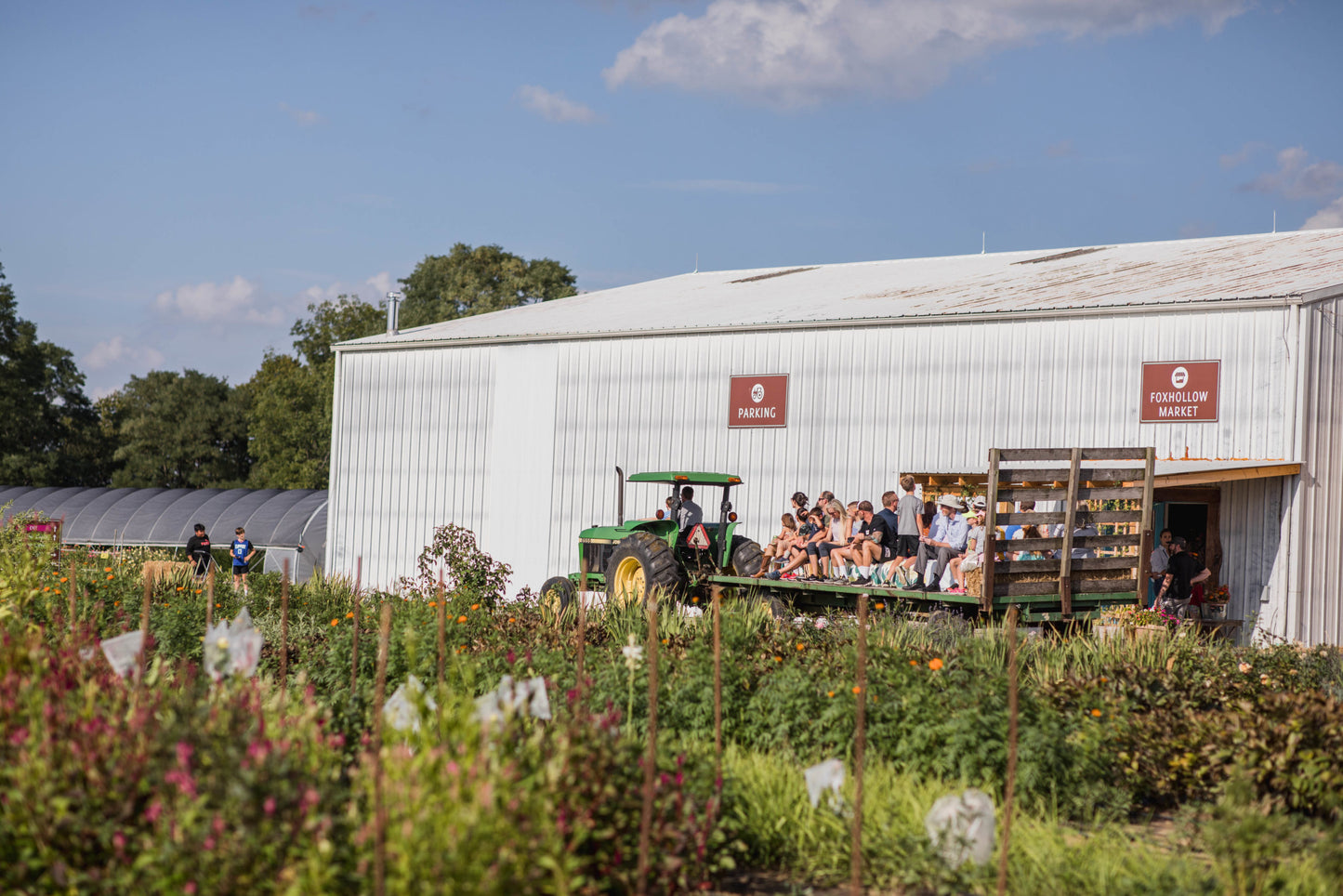 Fall at Foxhollow Market. Our Hayrides and Happy Hour have brought great joy to the farm this fall. We savor seeing families pile onto our haywagon to enjoy the farm's fresh breeze, survey our hayfields, and sense the peace of the stones and valley view. The cattle can be shy sometimes, but the farm's serene beauty has been enough to satisfy even the youngest of imaginations.
We'll have a convivial time this October 14th with an Enchanted Hayride including costumes, face painting, hay castle excitement, and pumpkin picking. Poco 502 will be serving tantalizing libations as well as burgers, hot dogs, and veggies from the farm. Join us 4-6 pm. The last hayride is at 6 pm, and food and drinks will be served until 7 pm.
Foxhollow Market will continue to be the go-to place for Foxhollow's 100% grassfed beef, lamb, and pastured pork + Chicken. Foxhollow Market will also be boasting an array of new fall treats including; fall wreaths, pumpkin ice cream, harvest cider, Kentucky sorghum, local maple syrup, fairy wands, and candles.
Thank you to the old friends who have supported Foxhollow Market throughout the Summer and Fall and to our new friends, we give a heartfelt welcome. Whether you're coming out to pick up a party pack at Foxhollow Market, take a hayride around the farm at one of our Hayride and Happy Hour events, or pick a pumpkin in our Pick your Own Pumpkin Patch, we hope you have a fall-tastic time. Sneak peek; we're looking forward to this Holiday season as we welcome farm-inspired decor, gifts, and goodies to Foxhollow Market. Foxhollow Market is open Wednesdays and Fridays 3-6 pm as well as by appointment.