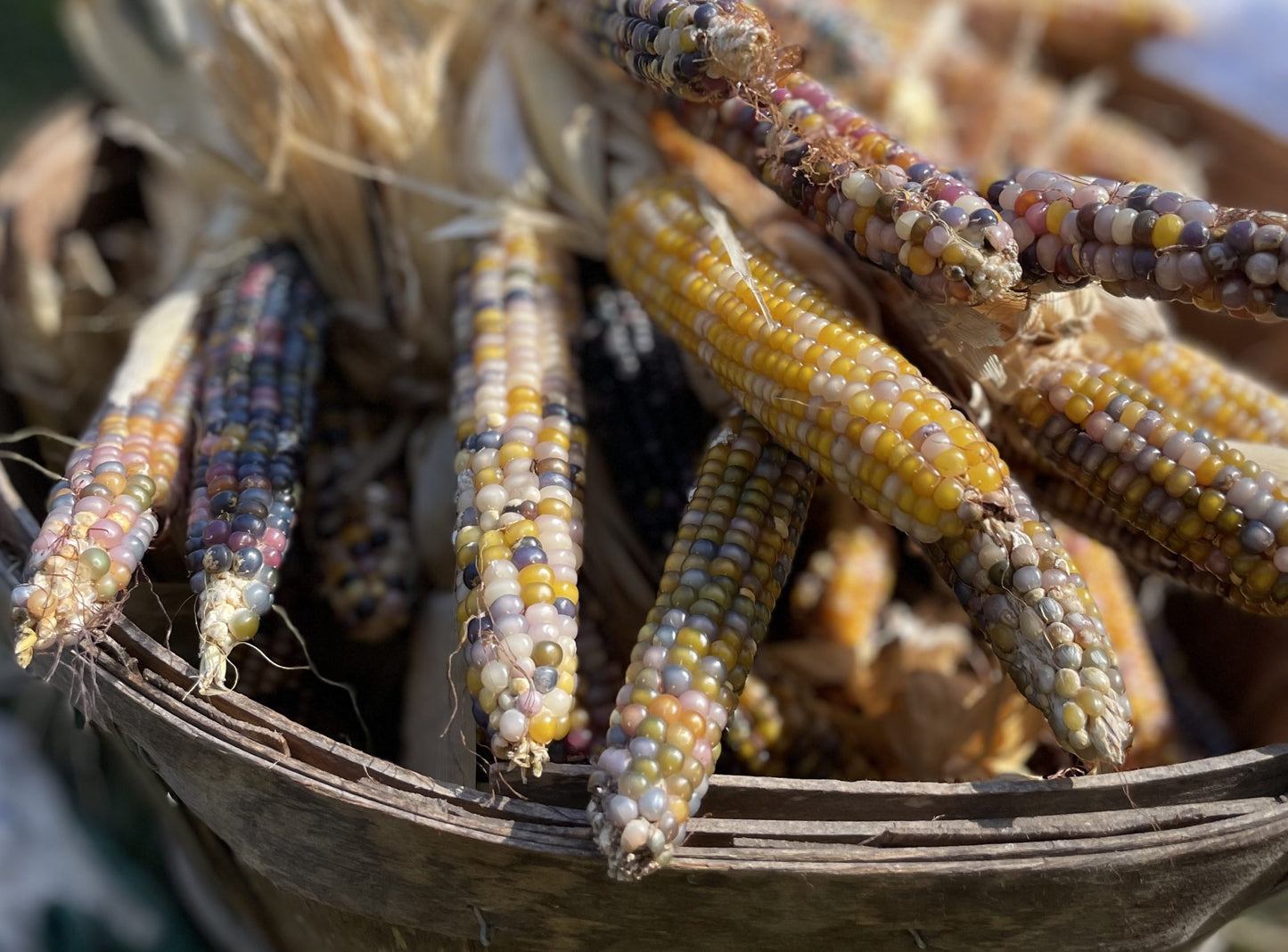 The Seed Chronicles Series - Glass Gem Popcorn. I'm often asked what makes an heirloom seed, "heirloom." Scientific designations notwithstanding, the single greatest thing that makes a seed an heirloom is the story behind the seed. I like to hold these seeds in my hand and think about the people who worked so diligently to create this unique little gem. People who recognized a plant variety's abilities to thrive in specific environments and who took on the role of a steward of these plants– nurturing, and passing on these seeds like the family heirlooms they are.
As summer's greens shift to the ochres and umbers of fall, I find myself drawn to nature's little pops of color- a flash of red or splash of purple. And I remember a picture of a man, standing in old sneakers and overalls next to his corn field. The man is Carl Barnes and the corn is Glass Gem Corn– so named because as the stalks fade, the kernels shimmer in jewel tones of indigo, yellow, and crystal-pinky-red. Being an heirloom, this corn has a story to tell.
Carl Barnes grew up in Oklahoma and learned to tend the earth alongside his grandfather. Although his Cherokee ancestry has not been confirmed, growing up near the Cherokee Nation led Barnes to become interested in the nearly extinct varieties of Native American Maize. Barnes dedicated his career to reviving these native seeds. His work at propagating these treasures led to the creation of Glass Gem Corn. The Glass Gem Corn growing here at Foxhollow is a result of his efforts. In the fall, our farm buildings and market sparkle with the corn's vibrant colors.
And you can eat it too! Glass Gem Corn isn't just ornamental– it's a type of "flint" corn– which means the kernels are best used as popcorn or ground into cornmeal. As they dry and fall off their husks, we save the prettiest kernels for planting and the rest for movie night. Glass Gem makes a perfect bowl of popcorn.
Our Glass Gem Corn is the original, heirloom, open-pollinated, non-GMO bred seeds developed by Carl Barnes. We currently have Glass Gem Corn for sale in the market– or add a bundle to your beef order. Any seeds we sell you are yours to cook, eat, or save to grow in your own garden.
Carl Barnes passed away in 2016, but his legacy lives on in the Glass Gem and other native corn he saved from extinction.
"I stand in a radiant Glory.
My roots in the heart of Mother Earth.
My crown in the clouds of Father Sky.
The Four Winds encircle me in spirals of Love.
One going up, then down,
One going down, then up.
They meet in the Center of Complete Perfection -
The Human Stalk of Corn."
-Carl Barnes