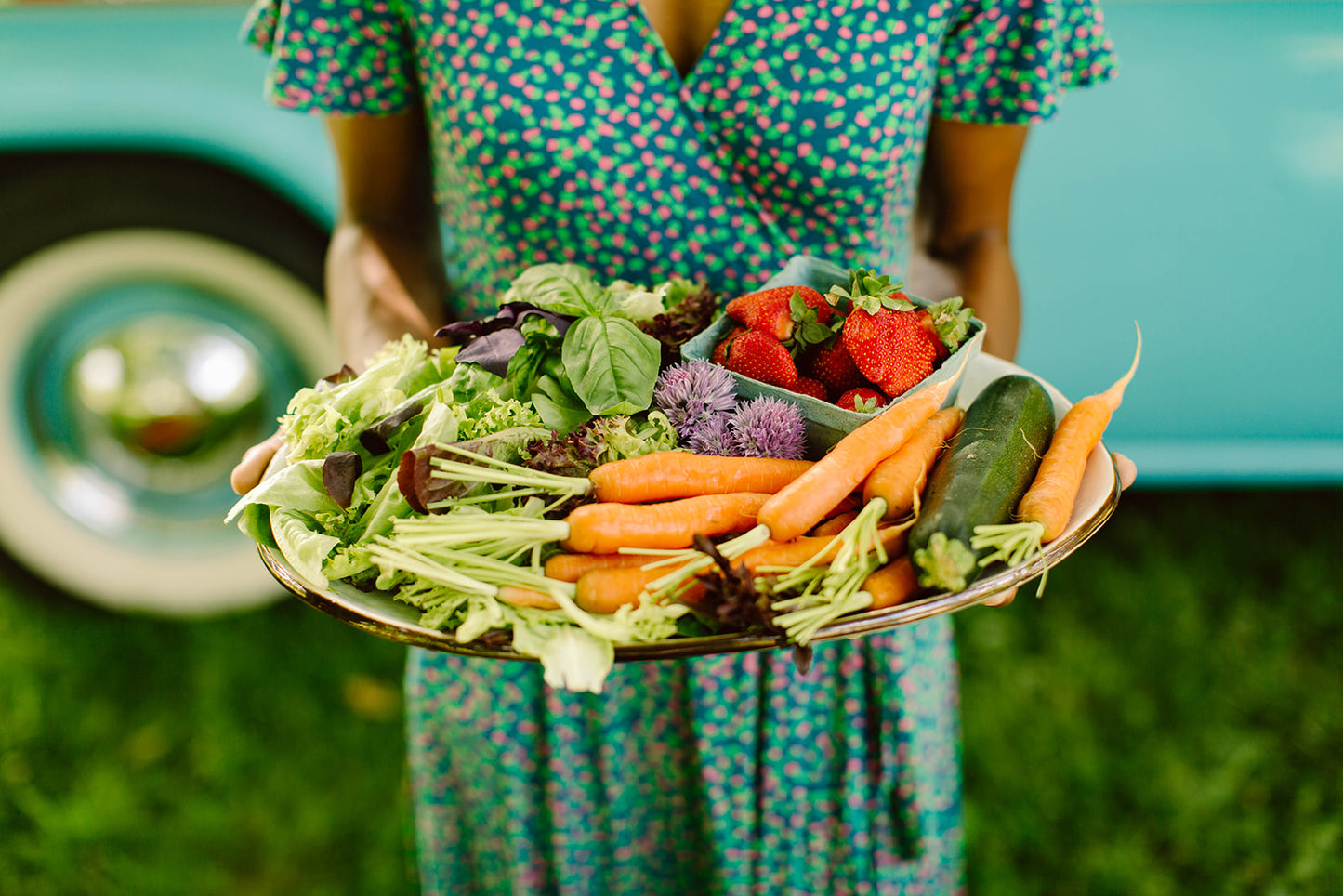 Sneaking Veggies Past Your Miniature Gatekeepers. We've all seen it. A tiny tyrant spies a vegetable on the plate and point-blank refuses to try it. That resolute "No" is exasperating! And let's admit it—sometimes we're the tiny tyrant—reaching for comfort food when we know a veggie is a healthier choice.
Good news—these sneaky recipes are the perfect way to get your food pyramid covered. Whether you're tricking your kid (or yourself) don't be surprised when the plates are picked clean!
Hot Dogs with Instant Pot Cauliflower Mac & Cheese
Mac & Cheese is an all-ages perennial favorite. This recipe plays to cauliflower's natural tendency to absorb flavors so you get all the cheesy richness of mac & cheese with very little consequences. Serve with hot dogs cooked your favorite way. It's fun to slice them into half-moons and stir them into the pasta, too!
Ingredients:
1 pound macaroni

4 cups water

2 tablespoons soy sauce

1 tablespoon dijon mustard

1 tablespoon nutritional yeast

1 ½ teaspoons sea salt

1 pound fresh cauliflower florets

4 ounces Kenny's

white cheddar cheese

¼ cup parmesan or

gruyere
Directions:
Pour pasta and water into the instant pot. Add water, soy, mustard and salt. Stir these ingredients, then spread cauliflower evenly on top—don't stir again. Secure the lid and move the steam release valve to sealing. Select manual/pressure cook and cook on high pressure for 3 minutes. Shred the cheeses while the pot comes to pressure.

When cooking is complete, let the pressure release naturally for 10 minutes, then move the steam release valve to venting to release remaining pressure.

When the floating valve drops, remove the lid and stir well. Mash any cauliflower against the side of the pot and let it dissolve into the pasta sauce.

Add the cheeses and stir well. Adjust seasons as needed and serve.
For gluten free, sub the pasta for your favorite gluten free pasta, and the soy for tamari.
*Adopted from Melissa Gilmore's recipe in The Fresh & Healthy Instant Pot Cookbook
Taco Surprise!
Let's face it, everyone loves tacos. This version hides surprise vegetables easily in the flavorful sauce.
Tacos are also fun to assemble, and kids are more open to trying something new if they help prepare it. Try a taco bar with tortillas or taco shells, cooked taco filling, and toppings like lettuce, shredded cheese, diced tomato, and avocado slices. Help your child—but let them get a little messy serving themselves. It's part of the fun!
Ingredients:
Oil to coat the pan

1 pound ground beef

2 cups shredded vegetables. Try a mix of bell pepper, zucchini, broccoli or carrots.

1/2 cup fresh chopped onion

8 ounces tomato sauce

2 teaspoons maple syrup

1/2 teaspoon taco seasoning

1 4-ounce can diced green chiles (these aren't very spicy, but feel free to omit and replace with ⅓ cup fresh diced tomatoes for very heat-sensitive palates)

1/2 teaspoon salt

1/4 teaspoon coarsely ground black pepper

1x 15-ounce can black beans, drained and rinsed

1 cup corn

2 tablespoons chopped fresh cilantro

Crunchy taco shells or soft mini tortillas and taco toppings, to serve.
Instructions:
First, shred the vegetables in the food processor. Keep the processed mixture next to the stove.

Coat a large pan with a little oil and begin to brown the ground beef in a large skillet over medium heat.

When the beef is almost cooked through, add the onions, then the vegetable mix. Cook for 3-4 more minutes, stirring occasionally, until some of the liquid cooks out and the beef is cooked through.

Gently stir in tomato sauce, taco seasoning, diced green chiles (or tomatoes), syrup, salt, pepper, beans, and corn. Stir in ½ cup water.

Simmer gently for another 4-5 minutes until about half of the liquid has cooked out and the mixture has thickened.

Top with fresh cilantro and keep warm until ready to serve.
Orange Applesauce
This recipe couldn't be easier to make—but it's an art, not a science. Feel free to play with proportions and texture to get it just the way you like it. Just make sure to adjust cooking time and water coverage based on what's in your pot.
Orange applesauce is sweet, low fat, and easy to pack for lunch. Wondering how to get that marigold hue? Carrots, of course! This is such an easy way to sneak vegetables into a meal and it makes the plate brighter, too. It's also a great way to use up apples that are on their way out.
Ingredients:
1 cup carrots, peeled and roughly chopped

4-6 apples, peeled, cored, and sliced into chunks.
Directions:
Place the carrots in the bottom of a saucepan.

Add the apples on top but don't stir them in.

Add enough water to submerge the carrots, and a little bit of the apple. Leave some apples uncovered.

Cover with a lid and cook on medium heat until the carrots are soft, about 10-15 minutes. Keep an eye on the pot and make sure the water doesn't cook off. Add more water if needed.

Strain any remaining water.

Use a stick blender to puree the carrot-apple mixture.

Add fresh water if needed to thin, one tablespoon at a time.

Add cinnamon to taste.
Variation: Pink Applesauce. Add ½ cup raspberries instead of carrots, and put them on top of the apples rather than the bottom of the pan. Reduce cooking time—it's finished when the apples are fork tender.
Hidden Veggie Burgers
This eats almost like a meatloaf burger with two important distinctions. First, a burger cooks faster than meatloaf, so it doesn't need as much moisture. That's why it's important to strain excess water from the vegetables before combining with the beef—lest you get a soggy burger. Second, it's important to dice or shred the vegetables to let them cook faster and let them meld with the beef flavors. Large chunks of vegetables will be undercooked (and not very well-hidden).
Serve this burger with your favorite fresh CSA salad, or a few homemade baked fries.
1 lb ground beef

1 small onion, finely diced

1 carrot, shredded

1 small to medium zucchini, grated

1 minced garlic clove

1 tbsp Worcestershire sauce

A few drops of liquid smoke

1 egg

2 tsp dijon mustard

½ tsp roasted garlic powder (roasted is milder)

2 oz crushed tortilla chips
Instructions:
Cut the carrots and onions and set aside in a large mixing bowl. Gather the grated zucchini in your hands or a cheese cloth and squeeze out excess liquid then add to the other vegetables.

Place the remaining ingredients into the mixing bowl and mix until just combined. Don't be afraid to use your hands!

Divide the mixture into four to six patties (depending on your appetites). Weigh them on a kitchen scale and redistribute as needed.

Grill or pan fry the burgers to your preferred temperature.

Serve on a toasted bun with pickles, tomato and lettuce.
Adapted from Healthy Little Foodies